December 31, 2019
2019 – The Year the Rocky Went Global
There could be no better way to ring in the new decade and to honor the memory of one of our founding members, Rocky Walker, than with the award named in his honor being won by an active duty service member.  Rocky was a Vietnam veteran and rightfully proud of his military service.  Today we have thousands of service men and women around the globe serving in the longest running war in American history.  One of those service members is Dan Nerdahl, who is an Aeromedical Evacuation Technician based in San Antonio and currently deployed in Afghanistan.  Dan is also a Best American Baseball Experts Society member and the 2019 winner of the James L. Walker Award, a/k/a "The Rocky."  https://babesbaseball.wordpress.com/2012/03/20/remembering-rocky/.
Dan and his Rocky are pictured above on the tarmac with a C-130 that is the primary means of transport for wounded service members under the care of Dan and his colleagues.  We are so thankful for Dan's service, as well as those he works with and those for whom they provide critical medical care.  Rocky would be very proud to be serving with them and, undoubtedly, amused by their fighting spirit – just rub some dirt on it!
Congratulations, Dan!  Thank you for your service and come home soon to defend your B.A.B.E.S. title in 2020.
November 15, 2019
And James L. Walker Award for 2019 goes to…
Dan Nerhdahl, our first winner who is a Minnesota Twins fan, but more importantly our first B.A.B.E.S. member to be on active duty in the United States military!  More about Dan's service when we officially award him his Rocky, but for now please join me in congratulating his fine work.  His 46 points earned him a three point victory over Jed Morrison, who deserves much admiration himself for correctly picking both Cy Young winners, de Grom and Verlander, as well as Mike Trout for AL MVP.  Alas, Jed's pick of the Red Sox to repeat as World Series champs doomed his quest for his first Rocky.   Dan's pick of the Cubs to return to championship form didn't do him any good, but his correct prediction that the Astros would return as the AL pennant winner as well as naming three of the individual award winners was good enough to earn him his first Rocky.  We still have not had a repeat winner in thirteen seasons of B.A.B.E.S. competition.
Although she finished third, four points behind Dan, Carrie Edwards actually came the closest to winning.   Carrie was oh-so-close to another ten points as she had predicted that Alex Bregman would take the top player honor in the AL and he almost did, finishing second to Mike Trout by only only four first place votes and a total of 20 points.  However, Dan correctly predicted that Trout would win his third AL MVP award (only Barry Bonds has more, and Mike is only 29 years old) and those ten points put him ahead of both Carrie and Jed.
I will be back in a few weeks with some memorable pictures of this year's winner and a more thorough review of our overall performance this year.  I will also have to deal with the troubling news coming out of the MLB office about the way the Astros may have played the game, this year and in years past.  Say it ain't so, Jeff and A.J.?
The Hot Stove may have a new meaning this year….
October 31, 2019
Mighty Casey Has….
When baseball ended its stretch run in September I posted a quote from the long time coach of the Los Angeles Dodgers Tommy Lasorda: "the best possible thing in baseball is winning the World Series. The second best thing in baseball is losing the World Series."  I featured this quote as a type of medicine for my brother Carl who is a lifelong Dodgers fan and who has suffered through the second best thing in baseball (life?) the past two Octobers.
When the National League Championship series ended this October I posted a picture of the Casey at the Bat statue outside Space Coast Stadium, the former spring training home of the Washington Nationals.  I did that in semi-tribute to the 2019 Nationals team, who qualified  for their first World Series appearance after 14 years as the Nationals and five consecutive post-season series losses.  Moreover, the NL pennant was the first for the historic franchise which had existed as the Expos for the 36 years prior to moving to D.C. in 2005.  I pointed out that this franchise was one of only two remaining franchises at that point to never qualify for the World Series (its win leaves only SEA still pennant-less).
Little did I know that my left-handed compliments to the Dodgers and the Nationals were actually prophetic insults to my beloved Astros.  Now on this Halloween, at the close of MLB 2019,  I must suffer the second best thing in baseball,  finishing second in the World Series.  I must also endure the ignominy of my team having effectively struck out at its home park, becoming the first team in the history of the World Series to lose all four games at home. Indeed, the final loss in game seven ended with two actual strike outs of two of the best hitters in baseball, Jose Altuve and Michael Brantley.  This after both of those players hit over .300 in the series and close to it for the regular season, not to mention that the won 60 of its 81 games at home prior to the post-season.  Alas, that strength did not continue and there is no joy in H- town tonight.
But the Nationals are to be commended. Never before has a team capitalized on such a "road field advantage."  And as I pointed out at the beginning of the series their pitching staff was every bit as good and possibly even better than the Astros. When they needed them to be, the Nationals aces were simply better than those of the Astros.  So despite the historic odds against winning all four games played in HOU, WAS showed why the games still have to be played.  No matter how many experts, or B.A.B.E.S. members, predicted an Astros victory, the games are still decided on the field.  And this year, for the first time ever in any major sport, each one was decided in favor of the visiting team.  Who could have predicted that?
Well, 2018 B.A.B.E.S. champion Gus Pompa at least picked WAS to win World Series, even if the didn't have to say which games they would win.  So he now has 31 ponts and sits in a tie for third, three points behind Steve Jacobs.  It still looks as if the individual picks will elevate someone's point total above that.  The announcement of these award will come in November.  I hope by then the sting of the Astros' Game 7 loss will be past.
October 19, 2019
West Palm Beach World Series
(FITTEAM Ballpark of the Palm Beaches, West Palm Beach, FL, where a World Series Championship banner is guaranteed to fly next Spring)
The unique nature of the World Series competition has been compromised since the advent of interleague play in MLB in 1997.  We no longer have just one time each year when a team from the AL plays a team from the NL.  And, of course, since the first free agent signings in 1976 players have moved from one league to the other with increasing frequency.   But with all of these developments, there has arguably never been a World Series where the teams are as familiar with the other as in 2019.  This is because both the Astros and the Nationals spend Spring Training at the same ball park, the FITTEAM Ballpark of the Palm Beaches, in West Palm Beach, FL.
As Chip Babcock, distinguished First Amendment lawyer, B.A.B.E.S. member and last year's runner-up in the competition for the Rocky,  pointed out to me this weekend (even before the Astros won the pennant), there has never been a World Series between Spring Training co-tenants.  I have not been able to verify that point yet, but Chip has enough credibility that I am going to go with it for now. [1] At least I have verified that last March the Astros and Nats  played each other six times and no doubt crossed paths many days during the Spring work-outs.  That may have been seven months ago but my guess is that there is still plenty of familiarity between two teams. And neither team has undergone much of a change during the course of the season, other than the Astros adding Zack Greinke.
Even with the familiarity, it should be an exciting series between two teams with outstanding pitching, hitting and fielding.  The Astros were first out of the 30 MLB teams in batting average and ERA, and second by only .001 in fielding percentage.  The Nats were good – 5th, 8th and 7th, respectively in these categories – but you still have to give the Astros the edge.  They won it all in 2017, went back to the ALCS last year and won 107 games this year on the way to another AL pennant.  This is the first year that the Nats franchise has ever won a post-season series!  However, a team that can pitch either Scherzer, Strasburg, Corbin or Sanchez for each of the possible seven games in the Series definitely has a chance to win four of those games.   It should be a baseball fan's delight.
No doubt both fan bases will be totally energized. The Nats' fans will be looking for the first Series win ever for the franchise that began play in 1969 in Montreal, and the first win for the city since the original Senators franchise (now the Twins) beat the New York Giants in 1924 in a thrilling 12-inning Game 7 that was heavily influenced by two bad hop grounders that helped the Senators come from 3-1 behind in the 8th inning to win 4-3 in 12.  The game took place at the Polo Grounds, so the Giants had no one to blame but their own grounds crew.  The Astros, of course, have their own home field advantage in Minute Maid Park, which rocks as loud as any sports venue anywhere when the roof is closed and the action is tight.  They also have been motivated all year by the slogan "Take it Back!"  which is not only a reference to regaining the world title they held in 2017 but also a nod to Texas history in its struggle for independence from Mexico.  Whatever the reference point, I know first hand that people in Texas love the Astros and are very thankful for the talented and likable players who make up the team's roster.  This picture I snapped on my phone during the Eucharist in church this morning speaks volumes:
(God Bless Jose Altuve – HOU's David to NYY's Goliath)
And on the subject of prayer, our B.A.B.E.S. competition remains close and now has a new look.  Steve Jacobs may have lost his World Series pick with Aroldis Chapman's hanging slider to Altuve in the bottom of the 9th, but he still leads our competition with 34 points.  Of course, he desperately needs WAS to win the Series or his dream of being the first two-time B.A.B.E.S. champion will be over for this year since several members picked HOU to win the Series.  Carey Edwards now has 32 points and a possible 42 more with picks of HOU, Bregman, Strasburg and Verlander.  Also three time runner up (!) Marc Whyte (31 points) just might finally get to be the groom this year with his HOU pick to win the World Series and his remaining individual picks of Scherzer, Trout and Cole.  Either of them could top 70 points which would not only win the Rocky but smash our all-time high point total of 56.  That record, by the way, is held by Hudson Stone, who with 29 points is in the race to "take it back" this year just like the Astros as he looks to match his 2017 win with a 2019 victory.  His picks of HOU, Bregman and Verlander could give him 61 points, but I think he is boxed out by one point by Carey Edwards.  However, Hudson's father Patrick Stone, (28 points) could take the Rocky away from either of them with his combination of HOU, Scherzer, Bregman and Cole.  That would total 70 points and also be a smashing new record.
There may be other possible winning combinations but I am too keyed up to search for them right now.  The Astros are back in the World Series for the second time in three years and the Nationals are there for the first time ever (after I picked them six years in a row!)  Who could have predicted that when the two teams were enjoying the bright Spring sunshine together in West Palm Beach in March?  Well, actually I did, but alas I can't win the Rocky because Marc has me blocked with more points in the preliminary rounds and the same individual picks.  My twelve year drought since winning the first Rocky will continue for at least one more year, but I will settle for another Astros title.
While we wait for Game 1 on Tuesday night,  I will keep studying the other point possibilities, and you are free to educate me to your own personal winning scenario.  You can find me on the beach in Florida, even though it is October.  The Astros and the Nats know the way.
[1] Update:  MLB.com reports that Spring Training co-tenants have played each other in the World Series only one other time. In the 1942 Series, the Cardinals played the  Yankees after having spent Spring Training together at Waterfront Park in St. Petersburg, FL.  STL won the Series 4 games to 1.
October 15, 2019
And then there was one
(Casey at the Bat statue outside the Washington Nationals former Spring Training home,  Space Coast Stadium, Viera, FL.  After 50 unsuccessful seasons, the franchise finally did not strike out in its attempt to reach the World Series.)
When the Washington Nationals center fielder Victor Robles caught a lazy fly ball off the bat of Tommy Edman for the 27th out of Game 4 of the 2019 NLCS, it marked the end of eighty-six years of baseball frustration in our Nation's capital.  For the first time  since 1933 the local major league baseball team will represent the city of Washington in the World Series.  But more importantly, the city's current franchise, which began play as the Montreal Expos in 1969, will be in the World Series for the very first time, leaving the Seattle Mariners as the last MLB franchise never to have competed in the Fall Classic.
Congratulations to the Nationals, and "Better luck next year!" to the Cardinals who despite being swept in the NLCS had a very successful season.  The lament "Wait 'til Next Year!" does not seem appropriate for STL, as the National League's all-time winningest franchise (11 World Championships, second only to NYY). But it certainly applies to the Mariners and Seattle.  The city's two MLB franchises are bordering on epic futility and heartbreak.  Whether it was the Pilots moving out of the city after only one season, or the Mariners losing to NYY in the ALCS after winning 116(!) regular season games in 2001, or even this year when the team went 55-92 after winning thirteen of the first fifteen games in 2019.   They are now the last member of the expansion classes of 1969 (KCR, MON, SDO, and SEA) and 1977 (SEA and TOR) yet to make the Fall Classic, and have suffered through 43 seasons without a pennant.
There are still seven franchises who have yet to win a Series (although WAS could reduce that to six in a few days), but SEA now stands alone as the MLB franchise and city never to even win a pennant.  And given their current roster it does not look like they are likely to end their World Series drought next year or any year soon.  Perhaps the Casey at the Bat Statue should be moved from the now abandoned Space Coast park to the bereft T-Mobile Park, where there is no World Series joy at the moment, nor has there ever been.
But there will be joy in B.A.B.E.S.-ville soon, and there are probably more than one of us who still have a chance to experience it by winning the 2019 Rocky.   Steve Jacobs remains our leader.  He extended his points total (now 34) and points lead (now 8) by successfully picking WAS to win the NL pennant.   He also has NYC winning the AL pennant, which is still a good pick but not quite as promising as it was two games ago.
Carl Rose and Hudson Stone both jumped up among the leaders with 23 points by also picking the Nationals.  Carl deserves some credit for that pick since he is a life-long Dodgers fan.  I guess you could say that he got a consolation prize following LAD's epic collapse in Game 5 of the NLDS.  I am not sure who is the bigger goat of that series, Clayton Kershaw or Dave Roberts, but probably it is best to stay positive and simply say that the Nationals are finally living up to their potential. (And who needs Bryce Harper, anyway?)
There are still many of us who could win the title (including me!) but there are too many variables to predict who that might be at this stage.  Check out your standing, and my math, on the MLB – 2019 page.
September 29, 2019
Legends in the Fall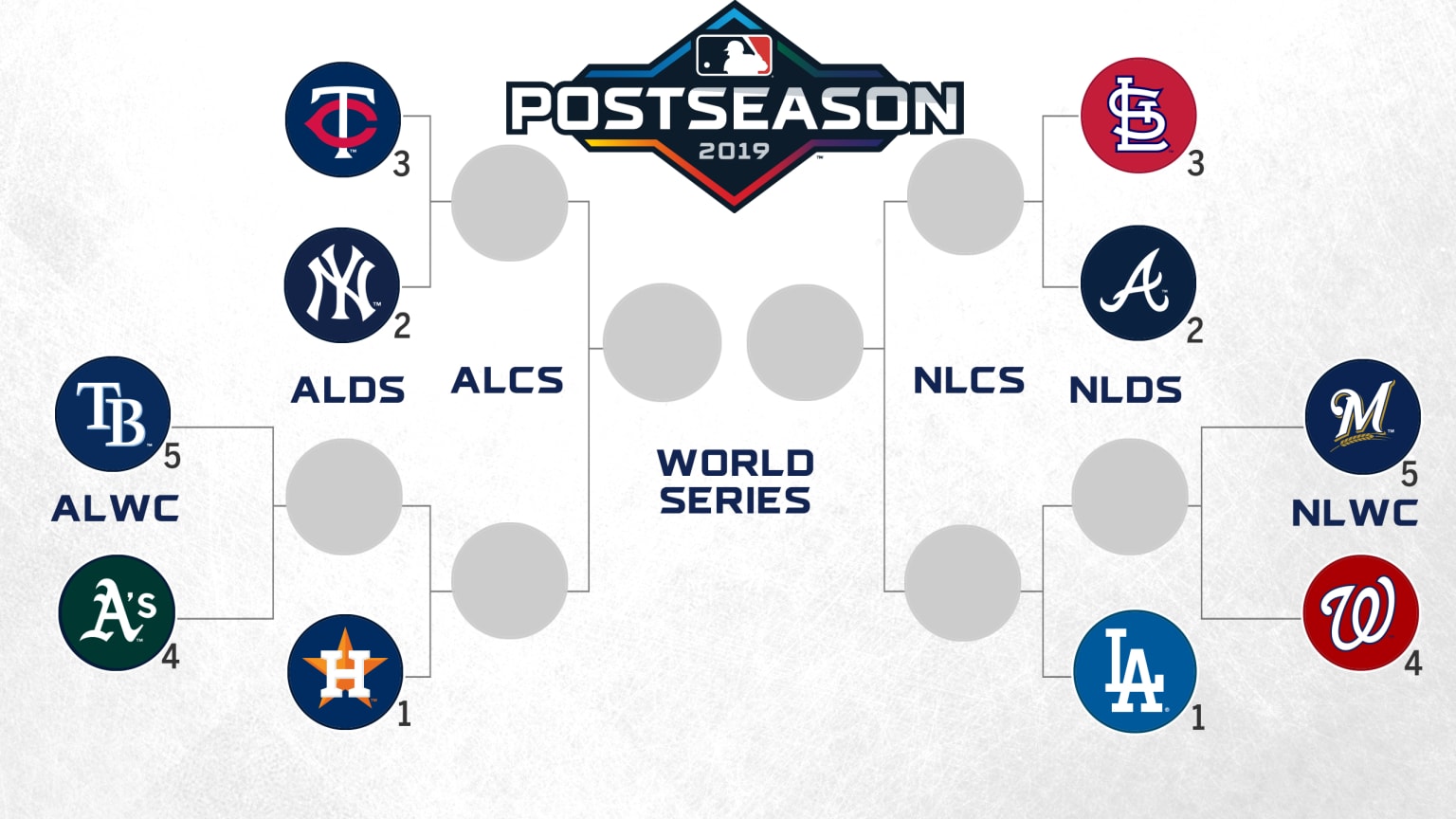 Fall is officially here, although it probably doesn't feel like it wherever you are in the United States (it's still summer in the south and it went straight into winter in the West).  But the calendar doesn't lie, and we are now in the season that leads us to that annual event that all B.A.B.E.S. members wait for through all four seasons, the World Series, a/k/a, the Fall Classic.  Of course, now that we have four rounds in the MLB post-season, it will take us until late October to know who wins the World Series, and whether any new legends will develop, but we now know who is playing and where they will start.
The 2019 season is the first in MLB history to have four teams with over 100 wins. – HOU, LAD, NYY and MIN.  The clash of any of those teams in any round of the post-season could produce a legendary series, but what is truly exciting is that despite the four "super" teams, a strong argument can be made that any one of the ten post-season teams could win the Fall Classic and it would not be shocking.  That should make for a legendary post-season regardless of which team wins.
You can look at the bracket above to check your points in our competition, or you can go to the MLB – 2019 page to check your total and standing against other members.  Once again we are likely to have to wait until late November after the other two individual awards are revealed before we will know which of you wins the 2019 James L. Walker Award.  Our leaders after the regular season are Steve Jacobs (28), Carey Edwards (26), Marc Whyte (25), Eric Hoffman (24), and Pete Broderick (23).
Even if I didn't list your name here, don't despair.  The chances are you are still alive in the competition with the Series wide-open and several of the individual awards extremely competitive.  All of this leads me to believe that by the time winter officially rolls around we will have new legends in both the MLB and B.A.B.E.S.
And speaking of legends, you never know when you might run into one on your walk home from work….
(The Doobie Bros. lead singer, Tom Johnston, who I first saw in concert in 1975, and who I met this week on the River Walk.  He was walking toward me wearing his sunglasses, but I recognized him.  Feeling like a groupie, I stopped him and asked, "Excuse me, but are you Tom Johnston?"  He took off his glasses, smiled, and said, "Why, yes, I am."  Some legends are epic.)
June 22, 2019
Getting the Jump on Summer 
Regular B.A.B.E.S. readers know that my son and I started a summer tradition in 2015, visiting MLB parks with the intent of catching a game in all 30 venues.   Our plan for this summer is to go to the Eastern Divisions and take in games in both the AL (NYY, BOS) and the NL (PHI, NYM).  Well, the hallmark of our tradition is flexibility and when a pre-summer trip to the Western Divisions presented itself, we took advantage and took in some American history at the same time. (Discussion question:  who would be on your Mt. Rushmore of MLB?)
Our first stop was Denver and Coors Field.  We first visited the park in 2017 but the Rockies were not home.  (Zac Brown and his band were, though, and we saw a promo this visit for his return this August.  CO must love ZB.)  We like the downtown parks in general and Coors is a very nice (and big) park.
Note the ring of purple seats in the upper deck.  That marks the actual point of 5,280 feet above sea level, from which the Mile High City gets its nickname.  Older B.A.B.E.S. members will recall the Denver multi-purpose stadium of that name that served as the Rockies first home, and the Broncos' as well.
Coors Field is a little separated from downtown proper, but in a departure from most other cities the ballpark has actually spurred considerable growth around it.  Kudos to Denver developers for taking the next step.  Kudos also to TOR for its development work, as we got to see Vlad Guerrero, Jr., Cavan Biggio and Rowdy Tellez, three promising young players that the Blue Jays are building around.  TOR might want to rethink the Edwin Jackson redoux, though.  He gave up 10 earned runs in 2.1 innings.  TOR may be his record-setting 14th MLB team, but perhaps should be his last.
Kudos (and thanks!) to Rockies first baseman Daniel Murphy who completed an unlikely relay on a ground ball out.  If you have been to a park lately you know that a tradition has developed where the first baseman will throw the ball from the last out of an inning into the stands along the first base line.   We just happened to be sitting about 20 rows up from first base, and when Nolan Arenado made one of his typical fine plays on a slow roller and got the out at first Murphy continued the play.  Score it "Arenado to Murphy to Rose."
Not exactly "Tinker to Evers to Chance," but Jack will take it.  His tall frame and long arms came in handy in making the play.  I am not sure how much his summer blonde look had to do with it, though.  (Anyone remember Joe Pepitone?)
Our next stop was Seattle's T-Mobile Park, to hang out with The Kid.
Well, actually, with the kids.  Jack and I were joined by my daughter and his sister at what we are used to calling Safeco Field.   It, too, is a nice park but also a bit removed from the downtown action.  It feels like several of the other new parks, with not much to distinguish itself except perhaps the standing porch in left field.  That offered a nice vantage point from which to watch the end of the game, eat some ice cream and catch some close ups of the Astros' bullpen.  HOU didn't need much relief help, however, as the team pounded out 13 hits and scored 11 runs in getting the W.
We ended the night with a post-game sit-down with Mariners' Hall-of-Fame broadcaster Dave Niehaus who handled radio play-by-play duties for the first 33 years of the franchise's existence, a run that ended with his death after the 2010 season. It is a very nice touch that the team memorialized his significant contribution with this interactive statue at the park.  Radio broadcasters become as representative of the team to its fans as most players, and they should be remembered.  (Thinking of you, Mark Holtz.)
So, it was an excellent Spring start to our ballpark season.  These two visits represented numbers 18 and 19 in our quest, which should number at least 32 by the time we finish. We have to go back to ATL to visit the new SunTrust Field and to Arlington to the new Globe Life Field (can't believe I was present for the opening of the existing Ballpark in Arlington in 1994 and it is already going into the dustbin of history).  We also might even be visiting Montreal for TBR North before we are through.  If you did not catch that story, it is an interesting approach to solving the problem of limited markets, where the struggling Tampa market could share its team with the already failed Expos former home.   More to come on this idea that smacks of desperation on TBR's part, and perhaps MLB as well.
https://www.espn.com/mlb/story/_/id/27016429/rays-explore-splitting-games-montreal. (Kudos to ESPN's Jeff Passan for pre-Christening the bilateral squad the "Ex-Rays"!)
If you haven't planned your own summer trip yet, I  strongly recommend that you consider some out-of-the way sites like Mt. Rushmore and Devil's Tower.  One is an amazing feat of one man's artistic vision and hundreds of workers' industry.  The other is an awe inspiring natural phenomenon that had the same feel to me as a ball park – serene and exhilarating and mystical.
May 1, 2019
May Day or Mayday?
Today is an international holiday celebrating the arrival of Spring.   According to some historians, the tradition dates all the way back to the Roman Empire when the celebration was focused on the arrival of Spring flowers.  In modern times, the emphasis has turned more to the celebration of workers' rights, and presumably their craftsmanship.   A summary of both traditions can be found here: https://www.history.com/topics/holidays/history-of-may-day.
B.A.B.E.S. thinks there is no better combination of Spring and workers than Major League Baseball, so let's celebrate May Day and the beginning of the second month of the 2019 season with some great worker – and teams of workers – performances:
Cody Bellinger – one of the greatest opening months in MLB history – .434 avg.; 14 HR; 37 RBI; .1413 OPS
Christian Yelich – the blazing second half in 2018 that earned him the MVP award is looking legit – .353 avg.; 14 HR; 34 RBI; .1234 OPS
TBR – 19-9 – best record and lowest payroll in MLB – $3.2 million/W = best organization in baseball?
Marcus Stroman – only a 1-3 record, but he has a 1.43 E.R.A. and hasn't allowed a single HR in 37 innings pitched (a modern miracle).
There are several other shining examples worthy of a May Day celebration, but there are also some very distressing performances to note.  As you probably know, "Mayday!" (same letters, no space) is also an internationally recognized distress call used in the time of a life-threatening emergency. Although they are only 1/6th of the way through the schedule, the season is almost on life-support for some players and teams.  For example:
BAL pitching staff – 73 HR allowed in 30 games, a pace that would almost double the worst previous performance in MLB history.  The next closest team is STL with 51.
Chris Sale – 0-5 record; 6.30 E.R.A.; how does John Henry feel about that $150 million contract extension?  More for BOS's ownership to worry about below…
Jose Ramirez – .181 avg; 2 HR; 9 RBI, .557 OPS – the guy finished 3rd in the MVP voting the past two seasons!
Chris Davis – .176 avg.; 3 HR; 13 RBI; .606 OPS – the guy has a $161 million contract!
BOS – 13-17 record – The defending World Champions have the highest payroll in MLB and are 7.0 games behind TBR ($17.3 million/W = worst organization in MLB?)(Where have you gone, Sam "Mayday" Malone?)
There are other woeful performances and startling stats that I will write more about later, but if you have been following the season and this Blog you may acknowledge that my "Fields of Change" post in December is proving to be accurate.  https://babesbaseball.wordpress.com/2018/12/31/fields-of-change-2019/.  There continue to be more home runs and strike outs, but fewer balls-in-play and even fewer hits.  Most of these changes appear to be the consequences of advanced analytics and organizational strategy.  The future of the game seems a bit uncertain, but it is probably still too soon to issue a Mayday call for MLB.
The same is true for our B.A.B.E.S. predictions, but they aren't looking so great, either. Of course, we have learned that this is one area where you really have to wait until the end of the 162 game season.  Much can change in the next 130 games.
If you haven't already, please review my record of your picks at the link below and let me know if you can verify any errors (no revising your picks to drop BOS!)
https://babesbaseball.wordpress.com/major-league-baseball-2019/.
(Plaque gift of Mrs. Commissioner, Opening Day, 2015)
March 28, 2019
It's Next Year!
Of all the clichés associated with sports I think "Wait till next year!" is the most meaningful for fans and the one most associated with baseball.  A noted political historian, Doris Kearns Goodwin, even used the imperative sentence as the title to her memoir of a childhood spent rooting for the Brooklyn Dodgers.  https://www.amazon.com/Wait-Till-Next-Year-Memoir/dp/0684847957.  Used as an expression of hope more than as a command, it is still relevant today even though the Red Sox and Cubs broke sports' most famous title droughts (curses?) after 86 and 108 years, respectively. The Red Sox have since become something of a dynasty and the Cubs are now a perennial pennant contender, but these accomplishments just heightened their fans' expectations and shortened their patience for the next title.  Indeed, the euphoria felt in Wrigleyville over the Cubs' 2016 championship has apparently worn off after only two seasons.   https://www.chicagotribune.com/sports/baseball/cubs/ct-spt-cubs-joe-maddon-theo-epstein-anthony-rizzo-perceptions-20190327-story.html.
Though few of us feel sorry for the Red Sox or Cubs any longer, if we ever did (we still feel for you, Bill Buckner and Steve Bartman), there are other long-suffering fans who truly deserve our compassion.  CLE's MLB title drought has now reached 70 years and includes two excruciating 10th-inning Game 7 World Series losses.  That certainly seems like a curse, as does the fact that TEX had nine different pitches on which it could have become a World Champion in the 2011 Series, yet could not turn any of them into the requisite final out.  Curse or destiny?  https://babesbaseball.wordpress.com/2011/10/29/destiny-is-a-two-timer/.
The Rangers are one of seven franchises that have never won the Series. (Can you name the other six?)  The fans of these teams have been waiting and longing for their first championship for periods ranging from 42 to 58 years, and two of these clubs have yet to even appear in a World Series.  (One of them has broken the hearts of fans in two countries.)  Here is a link if you're interested in studying these tales of woe, although some of you may know the painful stories personally already.  https://en.wikipedia.org/wiki/List_of_Major_League_Baseball_franchise_postseason_droughts.
Despite these painful proofs of history repeating itself and the obvious likely re-occurrence in the new season, excited fans still show up in every park on MLB's Opening Day.  And no matter how unrealistic it may be, most of them hold out hope that this will at long last be their team's year. It reminds me of the oft-repeated line from Disney's baseball movie, Angels in the Outfield: "Hey, it could happen!"  https://www.youtube.com/watch?v=HdqvIC-AbvE.    I am reminded also of the effervescent personality and eternal optimism of B.A.B.E.S. co-founder Rocky Walker, for whom our championship trophy is named and whose legacy I try to honor each year at this time.  https://babesbaseball.wordpress.com/2012/03/20/remembering-rocky/.  So, as the metaphorical beginning of Next Year, MLB's Opening Day gives us hope for the future even as we remember the past, no matter how painful it might be.
Opening Day 2019 calls for us to look to the "long past," as Dickens put it, since the year is being celebrated as MLB's Sesquicentennial.  CIN (my childhood favorite team) is recognized as the first professional baseball club, having been organized as the Red Stockings with all paid players in 1869. (That was 150 years ago, for those of you who weren't certain of the definition of sesquicentennial).  Interestingly, the history of organized baseball leagues dates back only to 1882, with the formation of the first American Association, but MLB has always taken liberty with its history. (Cooperstown and Abner Doubleday?) Recognizing 2019 as the 150th Anniversary continues a practice of anniversary celebrations started in 1969 (100th) and repeated in 1994 (125th), that gives the teams a basis for promotions to sell more tickets and merchandise complete with commemorative patches.  https://uni-watch.com/2019/02/20/cincy-one-five-o-reds-buck-trend-on-mlb-patch/.  (I include this observation mostly so that I can reference the very cool blog of Paul Lukas, https://uni-watch.com/. If you have never looked at it, do it now! Yes, that is an imperative command.)
We know that professional baseball is a business and that it needs our financial support as much as our emotional investment.  Even if we can't confirm when the game was invented or agree on when MLB began, the important thing for fans is that it continues today.  Our responsibility is to pay it homage each year and to do what we can to keep it going, like buying tickets and souvenirs, and supporting its advertisers.  But competing for the "Rocky" is also our special way of honoring the game and ourselves at the same time, and this will be our twelfth year to do so.  https://babesbaseball.wordpress.com/309-2/.
I was honored to win the very first year, 2008, but haven't come close to winning since. In the best tradition of being a sports fan, however, and in the best spirit of my departed friend and colleague, Rocky, I tell myself that this is Next Year and that I can end my personal title drought. (Also, I want to become the first Society member to win two Rocky's.).  Hey, it could happen!  Here's how:
NL East – WAS
NL Central – STL
NL West – COL
NL WC – CHI
NL WC – LAD
NL Pennant – WAS
AL East – BOS
AL Central – CLE
AL West – HOU
AL WC – NYY
AL WC – TBR
AL Pennant – HOU
WS – HOU
NL Cy Young – Scherzer
NL MVP – Goldschmidt
NL Batting Title – J. Turner
AL Cy Young – Cole
AL MVP – Trout
AL Batting Title – Betts
Those are my picks for 2019.  Whether you are hoping to beat me to becoming a repeat Rocky winner, or still looking for that elusive first B.A.B.E.S. championship, it is Opening Day and thus officially Next Year. So it could happen, but only if you get me your picks by 5 p. m. today.
Play ball!  (Another imperative command.)
(The New York Daily News report of Brooklyn's first World Championship in 1955 after seven consecutive losses in the World Series.)
March 26, 2019
Freedom is Apparently Overrated
Or at least doesn't pay as much as it used to.  That's the only conclusion you can draw from the surprising number of contract extensions signed this Spring by MLB's top stars.  Of course, there were still high profile free agent signings – Harper, Machado, Corbin, .etc., but there have been more examples of players forgoing the opportunity to become a free agent by signing new long-term deals with their existing clubs – Trout, Arendado, Goldschmidt, Kershaw, Sale, Bregman, Verlander, Hicks,  and several others. [Story update:  News just broke that the Mets and Jacob deGrom have agreed to a 5-year extension. Am I timely, or what?] [Another story update:  CHI just announced a four-year extension for Kyle Hendricks!]   Further, many established stars elected not to opt out of their existing contracts, preferring to stick with the deals they have with their current clubs rather than try for better ones on the open market – Arrieta, Strasburg, Darvish, Jansen, Chapman, Andrus and more.
(Chris Sale will be taking the Fenway mound for five more years with $145 million in his pockets.  This picture from my personal archives was taken seconds before Sale threw a pitch behind Manny Machado's head in the 2017 dust-up between BOS and BAL.  Any surprise that the BOS fans wanted him back?)
Could it be that the arc of free agency has finally peaked and the "Moneyball" approach is now being adopted by the players as well as the clubs?  I'll have more to say about that in the days ahead, but for now we can finally look to the field for the action after a Spring Training where all the news seemed to occur off the field.  At least several stars and their fans now know where they will be playing for several years to come.
(Justin Verlander wouldn't mind another opportunity to kick the rubber on the mound in Chavez Ravine during the two-year contract extension he was given by the Astros.  The $66 million was nice, too.)
And we're off!?
March 21, 2019
One week until MLB's official Opening Day, and yet SEA is already 2-0 and OAK is 0-2?  That's the way the world of sports goes in the 21st Century, with openers on both sides of the globe.
I am fine with that, as I long to see baseball become as popular around the world as the younger American sport, basketball, has become.  However, when a game starts at 4:30 a.m. locally, that is almost taking the term "opener" too far.  Fortunately I could watch comfortably in the darkness of my room, with the sound off so as not to wake Mrs. Commissioner.  Of course, she has slept through thousands of games during our 32 years of marriage, so no real problem there.
You may not have gotten up for the start of either game, but I hope you saw the send-off for Ichiro in the 7th inning of Game 2.  Although he could not produce any Derek Jeter-type magic in his final plate appearance,
there was an instant when I thought Ichiro might at least end his career with a signature infield hit.  It crossed my mind that OAK SS Marcus Semien double-clutched on his throw  to first just to give Ichiro a chance to beat it out, but there just wasn't quite enough left in his 45-year old legs.  Unfortunately the umpire called him out and SEA manager Scott Servais did not challenge the call.  Even so, the end of a phenomenal career is something to be celebrated anytime, and but particularly when it comes in an official game played in the player's home country even before the official MLB Opening Day.  The fans in Japan (or should I just say the whole country) certainly celebrated him, and I think MLB was very wise to set this stage for the finale of  one of the greatest MLB careers by a non-American so far.  (That's an interesting debate. Who would you pick? Clemente would be mine.  As to future possibilities, do you think Shohei Ohtani was watching?)
My own tribute to Ichiro is that I thought enough of him to record this photo in my personal archives when we visited Marlins Park in 2016.  The fact that Jack also had an Ichiro shirt is high praise in our house.  Jack is very particular about who he reps.
So two games have been played and a first-ballot Hall-of-Famer has already retired, but your B.A.B.E.S. picks are not due for another week.  Just a little more 21st Century analytical data for you to consider.  Perhaps the performance of OAK's pitching staff makes you doubt that Billy Beane can conjure up another 97-win season with his no-longer-mystical ways.  I will reveal all of my picks on 3/27, but I will tell you now that I am not going to have OAK in the post-season, and that decision was made before they lost the first two games of the season.
March 19, 2019
Bryce Buster!
And I thought the off-field news was interesting before today.
This morning news broke that Mike Trout is about agree to an extension with LAA that will crush the "record" contract Bryce Harper signed just two weeks ago, and I do mean crush:  1 year shorter,  100 million more dollars!  Something about Harper's deal seemed off to me when it was announced (note my skepticism about his value in the 3/1 post below).  In addition to disputing whether he is worth the money, the contract itself seemed artificially structured to save face for him and his agent, Scott Boras.   Boras had proclaimed that Harper was worth $400 million, and Harper had already turned down $300 million over 10 years from his existing team, WAS.  Sure, he ultimately got more total dollars and more annually than any other player, but it seemed contrived to me.  Just like his overall value seems contrived around his one good year – 2015.
Well, Mike Trout has had seven great years, five of which were better than or at least equal to Harper's one great year.  If you really study the stats, and if you assume that Harper's money is appropriate for his performance, the new contract underpays Trout. Apparently LAA's owner Arte Moreno agrees that it is a good deal because he is committing this enormous sum of money two years before Trout is even eligible for free agency.  He must know that the market will only go up.  And it is a true sign of Trout's stature given that Moreno has already had two bad experiences with big contracts – Albert Pujols and Josh Hamilton (the latter being perhaps the worst contract in MLB history, even though there is a lot of competition for that title).
(Now Jack and I know why Mike Trout was smiling so big in this banner hanging outside The Big A.)
As with all contracts, short and long, the true value to the team will only be known over time.  But my guess is that in this particular comparison $430 million for 12 years will prove to be cheaper than $330 million for 13.
March 15, 2019
The action is still off the field more than on it
So we are a month into Spring Training and have only two weeks to go until Opening Day (five days if you count the OAK v. SEA games in Japan March 20-21).  All thirty teams will be in action on March 28 for the earliest domestic openers in MLB history.  The schedule was moved up last year to create more off days during the year for the players.  That seems appropriate to note as this year the most interesting news around MLB is what is happening off the field rather than on it.
I noted in my opening 2019 post on March 1 that the biggest news is where will all the veterans be playing, if they are playing at all.  Well, Opening Day is almost upon us and a couple dozen players remain unsigned, including Dallas Keuchel, Craig Kimbrel and Gio Gonzalez.  Today that is still a story, and perhaps even more confounding since both LAD and NYY have ailing aces.  Kershaw may be ready for Opening Day, but it will be dicey since he has been held out almost all of Spring Training.  Luis Severino is definitely out for the month of April and perhaps longer.  Couldn't one of the two richest franchises take a financial risk when the team's performance is at stake?  Apparently even the traditionally big spenders are sticking with the new attitude towards over-30 veterans and long-term contracts.
And, as I wrote in my end-of-year post on 12/31,
https://babesbaseball.wordpress.com/2018/12/31/fields-of-change-2019/,
the real question this year is whether MLB and the MLBPA understand the crash course they are on.  And the answer is apparently, "yes."  In another surprise off-field move, the league and players announced an agreement on significant rules changes for 2019 and 2020, and their agreement to open CBA negotations over 2 years early!
https://www.mlb.com/news/mlb-rules-changes.
Apparently Mr. Manfred and Mr. Clark read our site and take our advice.  Good for them, and Good Luck to them.  The initial reviews from expert analysts were not favorable, at least as to the rules changes effecting strategy for play on the field.
https://www.si.com/mlb/2019/03/14/mlb-rule-changes-three-batter-minimum-home-run-derby.
My guess is that some of these may either get dropped even before being tried or abandoned shortly after implementation.  The real news to me is that the parties see that they must be pro-active in dealing with the serious issues between them.  The fact that MLB, led by Commissioner Manfred, seem bent on changing the game in order to appeal to younger fans is worrisome, but we have to believe that it is well-intended.  And some of the changes off the field are clearly aimed at the fans, such as the changes to All-Star voting.  The redo at the end of the voting should create a lot of fan involvement and some exciting election day coverage.   We will need some more time to study the impact of the on-field changes.
But, as we count down the days to Opening Day, let's be thankful that we have the attention of the stewards of the game, both on and off the field.
March 1, 2019
It's March – do you know where your favorite players are playing? 
Do they?
A free agent veteran wondering where he is going to be playing this year….
Hello, B.A.B.E.S. veterans, and perhaps some rookies, as well.  In case you haven't been paying attention, Spring Training 2019 is underway.  I know this because I am listening to the A's v. Rockies on the MLB At Bat app (the best $20 anyone can ever spend).  It is awesome to have live baseball to listen to again and not have to listen to non-stop speculation about where Bryce Harper is going to be playing.
You may have heard that Harper agreed to a new 13-year contract with the Phillies.  In addition to staying within the NL East, Harper gets to continue wearing red.
The picture above is not the first shot of Harper in PHI's spring training camp in Clearwater, FL.  It was actually taken in 2015 at the Nationals' old Space Coast Stadium home in Melbourne.  Harper struck out in that at bat, but he did go on to have an MVP season – one that barely justifies his $330 million contract.  But more about that later.
For now my only reaction to his new deal is to confess that my first prediction for 2019 has already been proven incorrect.  Back in November I expressed my belief that NYY was sure to sign Harper to play first base and set HR records with the short right field fence in Yankee Stadium.  Well, if you need any further evidence that there is a new Steinbrenner in charge in the Bronx, and a new fiscal approach to team management everywhere in MLB, look no further than the fact that the Yankees did not sign either of the two top free agents this year.  No, the Padres and the Phillies took those honors.  But more about that later, also.
The question for now, as we begin to consider our picks for 2019, is where will the rest of the dozens of free agents sign, if at all?  I always like to wait until the end of spring training to make my selections, not because I think spring performance is particularly relevant but because I am concerned about injuries.  Now I have to add the variable of a significant free agent signing – Dallas Keuchel anyone?  Or perhaps one or more of these dozens of available veterans?
https://www.mlbtraderumors.com/2019-mlb-free-agent-tracker/.
Whether you like to wait like I do, or have already made your picks, make a note that Opening Day, and the deadline for submitting your picks, is now only four weeks away, March 28.
While you ponder your 2019 selections, you may want to revisit yours and others' 2018 approach, particularly the Rocky winner Gus Pompa who proved that the term "analysis by paralysis" is not always a criticism.
https://babesbaseball.wordpress.com/major-league-baseball-2018/.
Pat Andriola -(17) NL East/WAS  (1); Central/STL(3); West/LAD(3); Wildcards/SDO; NYM; NL LCS/LAD; AL East/BOS; Central/DET; West/SEA; Wildcards/CLE; TOR; AL LCS BOS; WS/LAD; NL MVP/J. Upton; NL Cy Young/KERSHAW; NL Batting/T. Storey; AL MVP/Trout (10); AL Cy Young/HERNANDEZ; AL Batting/Altuve
Edmund Attanasio  – (17) NL East/WAS (1); Central/PIT; West/SFO; Wildcards/CHI; NYM; NL LCS/WAS(6); AL East/BOS; Central/DET; West/LAA; Wildcards/KCR; SEA; AL LCS BOS; WS/BOS; NL MVP/HARPER; NL Cy Young/KERSHAW; NL Batting/HARPER; AL MVP/Trout (10); AL Cy Young/HERNANDEZ; AL Batting/TROUT
Chip Babcock – (14) NL East/WAS(1); Central/STL(3) West/LAD(3); Wildcards/CHI; PHI; NL LCS/PHI; AL East/BOS; Central/CLE; West/HOU(3); Wildcards/NYY(1); TBR(3); AL LCS BOS; WS/PHI; NL MVP/Rizzo; NL Cy Young/Scherzer; NL Batting/Arenado; AL MVP/Judge; AL Cy Young/Sale; AL Batting/J. D. Martinez
Matt Bardwell  – (17) NL East/NYM; Central/CHI; West/COL; Wildcards/STL(1); SDO; NL LCS/CHI; AL East/BOS; Central/MIN(3); West/HOU (3); Wildcards/TOR; DET; AL LCS DET; WS/CHI; NL MVP/Rizzo; NL Cy Young/Kershaw; NL Batting/Rizzo; AL MVP/Trout(10); AL Cy Young/Porcello; AL Batting/Mi. Cabrera
Pete Broderick  – (39) NL East/PHI; Central/STL(3); West/COL; Wildcards/CHI; WAS(3); NL LCS/STL; AL East/BOS; Central/CLE; West/HOU (3); Wildcards/NYY(1); TBR(3); AL LCS HOU (6); WS/HOU; NL MVP/Arenado; NL Cy Young/Scherzer; NL Batting/Yelich(10); AL MVP/Trout(10); AL Cy Young/Sale; AL Batting/Betts
Travis Carlson – (22) NL East/ATL(3) ; Central/CHI; West/COL; Wildcards/SDO; PHI; NL LCS/SDO; AL East/BOS; Central/MIN(3); West/HOU(3); Wildcards/LAA; OAK(3); AL LCS MIN; WS/MIN; NL MVP/Arenado; NL Cy Young/Nola; NL Batting/Votto; AL MVP/Trout(10); AL Cy Young/Sale; AL Batting/Altuve
Rob Carington  – (24) NL East/PHI; Central/CHI; West/COL; Wildcards/LAD(1); STL(1); NL LCS/CHI; AL East/NYY(3) Central/CLE; West/HOU(3); Wildcards/BOS; LAA; AL LCS HOU(6); WS/CHI; NL MVP/Baez; NL Cy Young/Nola; NL Batting/Arenado; AL MVP/Trout (10); AL Cy Young/Sale; AL Batting/Correa
William Cupelo – (22) NL East/ATL(3); Central/PIT; West/LAD(3); Wildcards/WAS(3); SF; NL LCS/LAD; AL East/TBR(1); Central/DET; West/OAK(1); Wildcards/NYY(1); BOS; AL LCS DET; WS/LAD; NL MVP/VOTTO; NL Cy Young/KERSHAW; NL Batting/MCCUTCHEN; AL MVP/Trout(10); AL Cy Young/OHTANI; AL Batting/TROUT
Patrick Despain – (12) NL East/WAS(1) Central/STL(3); West/LAD(3); Wildcards/ATL(1); SDO; NL LCS/LAD; AL East/TBR(1); Central/DET; West/TEX; Wildcard/OAK(3); BOS; AL LCS TEX; WS/TEX; NL MVP/A. GONZALEZ; NL Cy Young/KERSHAW; NL Batting/MCCUTCHEON; AL MVP/CABRERA; AL Cy Young/OHTANI; AL Batting/CABRERA
Carey Edwards – (42) NL East/PHI; Central/MIL(1); West/ARI; Wildcards/WAS(3); COL; NL LCS/PHI; AL East/NYY(3); Central/MIN(3); West/HOU(3); Wildcard/BOS; OAK(3); AL LCS HOU(6); WS/HOU; NL MVP/Harper; NL Cy Young/Strasburg; NL Batting/Yelich(10); AL MVP/Bregman; AL Cy Young/Verlander (10); AL Batting/Altuve
Ross Forbes – (21) NL East/PHI; Central/MIL(1); West/LAD( 3); Wildcards/CHI; NYM; NL LCS/LAD; AL East/NYY(3); Central/CLE; West/HOU(3); Wildcard/MIN(1), BOS; AL LCS NYY; WS/LAD; NL MVP/ARENADO; NL Cy Young/Beuhler; NL Batting/J. TURNER;  AL MVP/Judge; AL Cy Young/Verlander(10); AL Batting/Altuve
Will Forbes –  (24) NL East/WAS(1); Central/CHI; West/LAD(3); Wildcards/MIL(3), ARI; NL LCS/LAD; AL East/NYY(3); Central/CLE; West/HOU (3); Wildcard/MIN(1), BOS; AL LCS NYY; WS/LAD; NL MVP/Bryant; NL Cy Young/KERSHAW; NL Batting/TVotto;  AL MVP/Trout (10); AL Cy Young/Kluber; AL Batting/Altuve
JW Galloway – (16)) NL East/WAS(1); Central/CHI; West/SFO; Wildcards/STL(1); LAD(1); NL LCS/WAS(6); AL East/BOS; Central/DET; West/SEA; Wildcards/BAL; LAA; AL LCS DET; WS/DET; NL MVP/STANTON; NL Cy Young/KERSHAW; NL Batting/RIZZO; AL MVP/Trout (10); AL Cy Young/HERNANDEZ; AL Batting/CANO
Leo Gonzalez – (25) NL East/NYM; Central/CHI; West/LAD(3); Wildcards/WAS(3); CIN; NL LCS/NYM; AL East/TOR; Central/KCR; West/HOU(3); Wildcards/TEX; LAA; AL LCS HOU(6); WS/HOU; NL MVP/Harper; NL Cy Young/Scherzer; NL Batting/Harper; AL MVP/Trout (10); AL Cy Young/HERNANDEZ; AL Batting/CANO
Eric Gouldsbury – (10) NL East/NYM; Central/CHI; West/LAD(3); Wildcards/STL(1); WAS(3); NL LCS/CHI; AL East/BOS; Central/CLE; West/HOU(3); Wildcards/TOR; SEA; AL LCS BOS; WS/BOS; NL MVP/Turner; NL Cy Young/Kershaw; NL Batting/Turner; AL MVP/Betts; AL Cy Young/Sale; AL Batting/Lindor
Jeff Hamilton – (2) NL East/MIA; Central/CHI; West/ARI; Wildcards/STL(1); NYM; NL LCS/CHI; AL East/TOR; Central/KCR; West/TEX; Wildcards/HOU(1); CLE; AL LCS TOR; WS/TOR; NL MVP/Goldschmidt; NL Cy Young/KERSHAW; NL Batting/Goldschmidt; AL MVP/Donaldson; AL Cy Young/Carasco; AL Batting/Altuve
Eric Hoffman  – (34) NL East/PHI; Central/MIL(1); West/LAD(3); Wildcards/CHI; STL(1); NL LCS/PHI; AL East/NYY(3); Central/CLE; West/HOU(3); Wildcards/BOS; OAK(3); AL LCS NYY; WS NYY; NL MVP/Goldschmidt; NL Cy Young/Scherzer; NL Batting/Yelich(10) AL MVP/Trout (10); AL Cy Young/Kluber; AL Batting/Betts
Pete Hosey – (27) NL East/ATL(3); Central/CHI; West/LAD(3); Wildcards/WAS(3); STL(1); NL LCS/CHI; AL East/BOS;  Central/CLE; West/HOU(3) Wildcards/NYY(1); OAK(3); AL LCS NYY; WS/NYY; NL MVP/Story; NL Cy Young/Wheeler; NL Batting/Harper; AL MVP/Trout (10); AL Cy Young/Bieber; AL Batting/Trout
Steve Jacobs – (34) NL East/WAS(1); Central/MIL(1); West/LAD(3); Wildcards/PHI; STL(1); NL LCS/WAS(6); AL East/NYY(3); Central/MIN(3); West/HOU(3); Wildcards/BOS; TBR(3); AL LCS NYY; WS/NYY; NL MVP/Arenado; NL Cy Young/Scherzer; NL Batting/Yelich(10); AL MVP/Judge; AL Cy Young/Bauer; AL Batting/Altuve
Tony Liccione – (23) NL East/WAS(1); Central/STL(3); West/LAD(3); Wildcards/CHI; PIT; NL LCS/WAS(6); AL East/BOS; Central/DET; West/SEA; Wildcards/LAA; CWS; AL LCS SEA; WS/SEA; NL MVP/STANTON; NL Cy Young/SCHERZER; NL Batting/McCUTCHEN; AL MVP/Trout (10); AL Cy Young/PRICE; AL Batting/CANO
Rip Lowe – (22) NL East/WAS(1); Central/MIL(1); West/COL; Wildcards/CHI; LAD(1); NL LCS/MIL; AL East/NYY(3); Central/CLE; West/HOU(3); Wildcards/OAK(3), BOS; AL LCS NYY; WS/MIL; NL MVP/Yelich; NL Cy Young/Beuhler; NL Batting/Yelich(10) AL MVP/Judge; AL Cy Young/Berrios; AL Batting/Benintendi
Tom Marchiando – (7) NL East/WAS(1); Central/CHI; West/LAD(3); Wildcards/NYM; COL; NL LCS/CHI; AL East/NYY; Central/CLE; West/HOU(3); Wildcards/BOS; LAA; AL LCS NYY WS/NYY; NL MVP/Arenado; NL Cy Young/Scherzer; NL Batting/Machado; AL MVP/Judge; AL Cy Young/Bauer; AL Batting/Betts
Ray Mileur – (13) NL East/WAS(1); Central/STL(3); West/LAD(3); Wildcards/PIT; SFO; NL LCS/STL; AL East/BOS; Central/DET; West/TEX; Wildcards/OAK(3); TBR(3); AL LCS TEX; WS/STL; NL MVP/CRAIG; NL Cy Young/WAINWRIGHT; NL Batting/CARPENTER; AL MVP/Trout; AL Cy Young/DARVISH; AL Batting/CABRERA
Eric Monacelli – (36) NL East/NYM ; Central/STL(3) West/LAD(3); Wildcards/COL; CHI; NL LCS/LAD; AL East/BOS; Central/CLE; West/HOU(3); Wildcards/NYY(1); LAA; AL LCS/HOU(6); WS/HOU; NL MVP/Arenado; NL Cy Young/deGrom (10); NL Batting/Blackmon; AL MVP/Trout (10) AL Cy Young/Cole; AL Batting/Altuve
Jed Morrison – (43) NL East/ATL (3); Central/CHI; West/LAD(3); Wildcards/PHI; MIL(3); NL LCS/LAD; AL East/BOS; Central/CLE; West/HOU(3); Wildcards/NYY(1); LAA; AL LCS BOS; WS/LAD; NL MVP/Harper; NL Cy Young/deGrom (10); NL Batting/Gennett; AL MVP/Trout (10); AL Cy Young/Verlander (10); AL Batting/Altuve
Dan Nerdahl – (46) NL East/PHI; Central/CHI; West/LAD(3); Wildcards/MIL(3); ARI; NL LCS/CHI; AL East/BOS; Central/CLE; West/HOU(3); Wildcards/NYY(1); LAA AL LCS HOU(6); WS/CHI; NL MVP/Harper;  NL Cy Young/Kershaw; NL Batting/Yelich(10); AL MVP/Trout (10); AL Cy Young/Verlander (10); AL Batting/Altuve
Gus Pompa – (41) NL East/PHI; Central/STL(3); West/LAD(3); Wildcards/CHI; MIL(3); NL LCS/WAS(6); AL East/BOS; Central/CLE; West/HOU(3); Wildcards/NYY(1); LAA; AL LCS/BOS; WS/WAS (12);  NL MVP/Acuna; NL Cy Young/Scherzer; NL Batting/Freeman; AL MVP/Trout (10); AL Cy Young/Bauer; AL Batting/Altuve
Alix Rose  – (26) NL East/ATL(3); Central/STL(3); West/LAD(3); Wildcards/NYM; CHI; NL LCS/STL; AL East/BOS; Central/MIN(3); West/HOU(3); Wildcards/TEX; NYY(1); AL LCS BOS; WS/STL; NL MVP/Goldschmidt; NL Cy Young/Nola; NL Batting/Frazier; AL MVP/Betts; AL Cy Young/Verlander (10); AL Batting/Trout
Carl Rose  – (23) NL East/WAS(1); Central/STL(3); West/LAD(3); Wildcards/NYM; MIL(3); NL LCS/WAS(6); AL East/BOS; Central/CLE; West/HOU(3); Wildcards/NYY(1); TBR(3); AL LCS NYY; WS/HOU; NL MVP/Goldschmidt; NL Cy Young/Scherzer; NL Batting/Rendon; AL MVP/Bregman AL Cy Young/Bauer; AL Batting/Trout
Jack Rose –(26) NL East/NYM; Central/MIL(1); West/SDO; Wildcards/CHI; ARI; NL LCS/MIL; AL East/NYY(3); Central/MIN(3); West/HOU(3); Wildcards/KCR; BOS; AL LCS HOU(6); WS/HOU NL MVP/Arenado; NL Cy Young/Nola; NL Batting/Baez; AL MVP/Trout (10); AL Cy Young/Sale;  AL Batting/Judge
Jennifer Rose – (16) NL East/NYM; Central/CIN West/LAD(3); Wildcards/SFO; PIT; NL LCS/NYM; AL East/BOS; Central/CLE; West/HOU(3); Wildcards/OAK(3); NYY(1); AL LCS HOU(6); WS/HOU; NL MVP/T. Turner; NL Cy Young/Greinke; NL Batting/Blackmon; AL MVP/Altuve; AL Cy Young/Keuchel; AL Batting/Altuve
Kara Rose – (22) NL East/NYM; Central/STL(3); West/LAD(3); Wildcards/PIT; MIA; NL LCS/LAD; AL East/NYY(3); Central/KCR; West/LAA; Wildcards/OAK(3); TEX; AL LCS LAA. WS/LAD; NL MVP/PUIG; NL Cy Young/Kershaw; NL Batting/PUIG; AL MVP/Trout (10); AL Cy Young/Sale; AL Batting/Altuve
Scott Rose – (34) NL East/WAS(1); Central/STL(3); West/COL; Wildcards/CHI; LAD(1); NL LCS/WAS(6); AL East/BOS; Central/CLE; West/HOU(3); Wildcards/NYY(1); TBR(3); AL LCS HOU(6). WS/HOU; NL MVP/Goldschmidt; NL Cy Young/Scherzer; NL Batting/J. Turner; AL MVP/Trout(10); AL Cy Young/Cole; AL Batting/Betts
Bruce Ruzinsky– (17) NL East/WAS(1) ; Central/STL(3); West/LAD(3); Wildcards/PHI; CHI; NL LCS/LAD; AL East/BOS; Central/CLE; West/HOU(3); Wildcards/LAA; NYY(1); AL LCS HOU(6); WS/HOU; NL MVP/Goldschmidt; NL Cy Young/Scherzer; NL Batting/Acuna; AL MVP/Bregman; AL Cy Young/Sale; AL Batting/Altuve
David Sanders – (22) NL East/WAS(1); Central/CHI; West/LAD(3); Wildcards/STL(1); ARI; NL LCS/LAD; AL East/NYY(3); Central/CLE; West/HOU(3); Wildcards/BOS; MIN(1); AL LCS NYY; WS/LAD; NL MVP/Harper; NL Cy Young/KERSHAW; NL Batting/Yelich(10); AL MVP/Stanton; AL Cy Young/Kluber; AL Batting/Altuve
Hudson Stone – (39) NL East/WAS(1); Central/STL(3); West/LAD(3); Wildcards/PHI; ATL(1); NL LCS/WAS(6); AL East/NYY(3); Central/CLE; West/HOU(3); Wildcards/BOS; TBR(3); AL LCS HOU(6); WS/HOU; NL MVP/Arenado; NL Cy Young/Nola; NL Batting/Freeman; AL MVP/Bregman AL Cy Young/Verlander (10); AL Batting/Altuve
Madison Stone – (21) NL East/WAS(1); Central/PIT; West/LAD(3); Wildcards/NYM; COL; NL LCS/LAD; AL East/BOS; Central/KCR; West/TEX; Wildcards/HOU(1); BAL; AL LCS HOU; WS/HOU(6); NL MVP/Goldschmidt; NL Cy Young/Kershaw; NL Batting/Gordon; AL MVP/Trout (10); AL Cy Young/Carrasco; AL Batting/Altuve
Patrick Stone – (28)) NL East/WAS(1); Central/STL(3); West/LAD(3); Wildcards/PHI; CHI; NL LCS/WAS(6); AL East/NYY(3); Central/CLE; West/HOU(3); Wildcards/BOS; OAK(3); AL LCS/HOU(6). WS/HOU; NL MVP/Goldschmidt; NL Cy Young/Scherzer; NL Batting/Freeman; AL MVP/Bregman; AL Cy Young/Cole; AL Batting/Altuve
Pat Stone – (10) NL East/ATL(3); Central/STL(3); West/ARI; Wildcards/COL; MIA; NL LCS/ATL; AL East/TOR; Central/MIN(3); West/TEX; Wildcards/HOU(1); KCR; AL LCS/TOR. WS/TOR; NL MVP/TULO; NL Cy Young/Kershaw; NL Batting/MOLINA; AL MVP/BAUTISTA; AL Cy Young/HERNANDEZ; AL Batting/ALTUVE
Rachel Stone  – (27) NL East/WAS(1); Central/CHI; West/LAD(3); Wildcards/COL; STL(1); NL LCS/CHI; AL East/NYY(3); Central/CLE; West/HOU(3); Wildcards/BOS; LAA; AL LCS/HOU(6). WS/HOU; NL MVP/Harper; NL Cy Young/Scherzer; NL Batting/Harper; AL MVP/Correa; AL Cy Young/Verlander (10); AL Batting/Springer
Walter Stone – (29) NL East/NYM; Central/CHI; West/ARI; Wildcards/LAD(1); ATL(3); NL LCS/NYM; AL East/NYY(3); Central/CLE; West/HOU(3); Wildcards/TBR(3); LAA; AL LCS HOU(6) WS/HOU; NL MVP/Harper; NL Cy Young/deGrom (10); NL Batting/J. Turner; AL MVP/Altuve; AL Cy Young/Kluber AL Batting/Altuve
Marc Whyte  – (41) NL East/PHI; Central/CHI; West/LAD(3); Wildcards/MIL(3); COL; NL LCS/PHI; AL East/NYY(3); Central/CLE; West/HOU(3); Wildcards/BOS; OAK(3);  AL LCS HOU(6); WS/HOU; NL MVP/Harper; NL Cy Young/Scherzer NL Batting/Yelich(10); AL MVP/Trout (10); AL Cy Young/Cole; AL Batting/Altuve
Caleb Young  – (12) NL East/ATL(3); Central/CHI; West/SFO; Wildcards/PIT; PHI; NL LCS/CHI; AL East/BOS; AL West/Hou(3); AL Central/KCR; AL Wildcards/CLE; SEA; AL LCS HOU(6). WS/NYM; NL MVP/Harper; NL Cy Young/Harvey; NL Batting/Harper; AL MVP/Correa; AL Cy Young/Keuchel; AL Batting/TROUT
© JSR 2019