November 30, 2020
The Perfect 2020 Winner!
Congratulations to Rip Lowe, the winner of this year's James A. Walker Award, a/k/a the "Rocky."  Rip is one of the longest-tenured members of the Society, and perhaps the most immersed in baseball tradition.  He is pictured below with his Rocky and wearing his vintage 1959 NYY jersey, a team that featured several MLB immortals, including Mickey Mantle, Yogi Berra, Don Larson, and Whitey Ford, not to mention my personal favorite, Marv Throneberry.  (If you don't remember Marvelous Marv, these Youtube clips should tell you all you need to know.  https://www.youtube.com/watch?v=dY-ZtKpSkzE;  https://www.youtube.com/watch?v=u7OtM6Zwhhs.)
I have known Rip for over twenty years, and he is a man of diverse interests and many talents.  In addition to MLB history, he was already well-versed in analytics when we met in the late 90's.  He introduced me to the amazing world of Strat-O-Matic, https://www.pjstar.com/sports/20200421/aaron-frey-strat-o-matic-brings-baseball-back-to-life, (I don't think I ever beat him), and he also gave me my first copy of Robert Coover's Universal Baseball Association, J. Henry Waugh, Prop., perhaps the quirkiest baseball book ever written, and one that I spent much time analyzing last year after re-reading it.  https://babesbaseball.wordpress.com/2019/08/02/reading-my-future-through-mlbs-past/.  (It's a long post.  You can scroll down for my Coover comments, just below the picture of the book, although I assure you every word is worth reading.)  Clearly, Coover and Rip are both baseball visionaries who have taught me much, and who can provide the same service to all Society members.
Nearly a year ago, in another age, I wrote my New Year's Eve post under the title "How's Your Vision?"    It was a cheap wordplay on the new calendar year and the standard medical designation for eye-testing.  https://babesbaseball.wordpress.com/2019/12/31/b-a-b-e-s-2020-how-is-your-vision/, but I think my observations were somewhat insightful, even without the interference of the pandemic.  As a whole, the Society membership acquitted themselves quite nicely.
To become this year's winner, Rip's 49 points were amassed by predicting nine of the post-season teams, including six in the correct position as division winner or wildcard.  In addition to predicting that LAD would win the NLCS and the WS, Rip correctly predicted that D.J. LaMahieu, former NL batting champ, would win the AL batting title.  That was an impressive prophecy, considering that no player had ever previously won the batting title in both the NL and AL.  Chalk up one at least one positive record for 2020.
Even if your optical vision is perfect, you could not have envisioned what the world has seen in 2020.  The pandemic came out of nowhere to limit everyone's field of vision to essentially their own home. But(!), despite this once-a-century development, and the devastation it has caused all around the world, it had little impact on the outcome of MLB 2020 as foreseen by you, the B.A.B.E.S. members.  Thirteen (!) of us correctly predicted the World Series victory by LAD, by far the most correct WS selections we have had in our thirteen year history.  Further, Dan Nerdahl nearly became our first repeat champion, and Chip Babcock finished his third year as a Society member with his second  second-place finish.  Several other Society members had their best results ever, although the shortened season and rules changes made unforeseen results much more likely.   Apparently, even in a pandemic, baseball remains a constant and marks the Nation's time.   Let's hope that in 2021 we will actually be able to watch it in person again.  Jack and I still have twelve more parks to visit together.
No doubt 2020 has been challenging for us all.  Perhaps the cobbled together MLB season, as well as the NBA and NHL bubbles, and now the on again/off-again football schedule, has provided some measure of entertainment and relief from the equally on again/off again quarantine.
We all hope that 2021 will enable us to return to the way things used to be, both on the fields of competition and in the streets of daily life.   However, even as baseball remains the same, our lives change.  Perhaps the insight we have been given by the events of 2020 will alter our vision and inspire us in 2021 to pursue something that really interests us.  Rip, in fact, caught that vision several years ago when he sold his business and took up acting.  (I said he is a man of diverse interests and many talents).  https://www.imdb.com/name/nm2817035/.
I think the cameo clip below provides the perfect valedictory for our thirteenth B.A.B.E.S. season amid a pandemic.   You will see that Rip delivers the lines with a clear vision for the importance of the thought.  Although I doubt he or the writer saw them as a commentary on the pandemic of 2020, they work that way for me.
"You know, people always used to say, that things were different here, that we all had a unique connection.  They said that the things we did together will alter this world, as never before."
https://www.imdb.com/video/vi86423577?playlistId=nm2817035&ref_=vp_rv_0.
Break a leg, 2021.
October 27, 2020
Re-Writing History
David fought with his book instead of his stones, and lost.
I said back in July that Goliath/LAD would win the World Series when David/TBR ran out of stones.  My prophecy/analogy was not perfect.  I was right about the result, but wrong on the explanation.  TBR lost when it refused to deviate from its "process" and removed the best stone from its sling.
TBR's starting pitcher Blake Snell seemed to have plenty of stones left with only one out in the 6th inning, leading 1-0.  He had given up only 1 hit and struck out 9 batters, six of which were the first three batters in LAD's order – Betts, Seager and Turner.  Yet, when Austin Barnes got only the second Dodger hit, Rays' manager went with the team's new-school, SABR-metric book, which almost never permits a hitter to see a pitcher for a third time in a game.  So Kevin Cash replaced Snell with Nick Anderson, despite the next three hitters being 0-6 with 6 k's for the evening against Snell.  Sadly, the book became a boulder, and it crushed the Rays' dreams.
Betts lined a double down the left field line to put runners at 2nd and 3rd with no outs.  A wild pitch scored Barnes, and a ground ball scored Betts, and the game was over.  Oh, the Rays had 9 more outs to try to score again, but you knew that was not going to happen.  It was made even less likely when another gassed reliever, Pete Fairbanks, gave up a home run to Mookie Betts in the 8th.
You can criticize the Rays' offense for not scoring other than on Superman Randy Arozarena's HR as the second batter of the game.  And you can say that TBR would not have reached this point in the season without the dominant performance of the bullpen all season, and in the post-season, but the fact is those guys were more exposed at this point of the season than a starter who had pitched only five innings.
At this point, you have to ignore your new school book, and go with the old-school gut:  the guy on the mound is dealing, and he's your best pitcher.  LEAVE HIM IN!  I said the same thing in Game 7 last year, when A.J. Hinch pulled Zack Greinke, in favor of an exhausted Will Harris.  We know how that worked out.
https://www.usatoday.com/story/sports/mlb/columnist/bob-nightengale/2019/10/31/zack-greinke-astros-game-7-world-series/4107308002/
It's humbling to win  a World Series on a wild pitch and fielder's choice ground ball, but LAD will be happy to take it.  They waited thirty-two years for such good fortune; and, it is likely that Dave Roberts would have made the same move as Kevin Cash, considering that he works for Andrew Friedman, but tonight nice guy Roberts does not have to answer that question.  He's now a World Series champion as a player and as a manager.    Who says nice guys finish last?  That's old school.
Our competition for the Rocky advances exactly as it was before the Series, with Rip, Chip and Dan all having picked LAD as the World Series champion.  That gives them 49, 45, and 45 points, respectively.  I think the only one of these three that could add to his point total is Chip, who picked Mike Trout as the AL MVP.  If that pick is correct, Chip will pick up the Rocky in his second try (having finished second last year in his rookie season).  The only other possible change in the standings that I see is if Juan Soto wins the NL MVP, and Trout does not win the AL MVP.  If so,  I will win my second Rocky after a 13 year drought (not likely, but, hey, it could happen).  You can check my calculations here:
https://babesbaseball.wordpress.com/major-league-baseball-2020/.
I am not a LAD fan, but I am happy for my brother (a life-long Dodger fan), and Vin Scully (over 60 years as the broadcaster), and even Rick Honeycutt, the pitching coach for thirteen years, who retired last year and who Dave Roberts thanked after the game tonight.  Also, the players are a likable bunch, including Clayton Kershaw who no longer will have to answer questions about his post-season performances.  He is a World Series champion, and he has more post-season strike outs than any other pitcher.  End of discussion.
And finally, as a fitting end to 2020's season, Justin Turner was removed from the game in the 8th inning after it was discovered that his COVID 19 test had come back positive.  What would have happened if TBR had won Game 6, and then other Dodgers had tested positive?  Would Game 7 have been postponed? Would LAD have been forced to play without these players?  Fortunately, for LAD and all of us baseball fans, 2020 did not leave us with that ending to the season.  Rather, the best team in MLB is the World Series Champion, and that is the way it should be, even if it means that Goliath beat David.  It is one piece of revisionist history I can live with.
October 22,  2020
David 1, Goliath, 1 (5 to go)
I received this text from  2017 B.A.B.E.S. champion, Hudson Stone, Tuesday night, and he agreed to let me post it as a guest column.
I don't think I can explain my joy to you, but I'm going to try.
I remembered (before you sent your email this evening) that you predicted Rays vs. Dodgers. And that the Rays would slay two Goliaths on their way to the WS. And that they would run out of stones and the Dodgers would finally win.
And seeing that everything else about your prediction has played out perfectly, it seemed like the most 2020 thing possible – The Commissioner actually makes perfect picks! Because THAT, is the most unpredictable thing that could've happened this year – someone makes seemingly unpredictably correct picks.
So, it seemed then like a foregone conclusion. The Dodgers are 2020 WS champions. They made it in 2018 and lost, then lost to the Nats in 2019, but now that the Astros' cheating scandal is exposed (you know, the thing that had nothing to do with the Dodgers losses in 2018 and 2019) the Dodgers are finally able to win it all. Cause the cheating scandal is OBVIOUSLY the only reason the Dodgers failed to win.
Or at least, that's the narrative.
But alas! A redeeming pick! One more trick up the Commissioner's sleeve! He did not entirely pick the Dodgers to win but seems to have made the most casual of mistakes – something's wrong! Something's different! Are his picks perfect? We shall see. But the Dodgers destiny seems to now be undetermined. No longer is it written in the Commissioner's stars. The Rays do indeed have life and possibly a championship.
A loophole has been discovered, and I have joy!
All I can say is that, "the fault, dear B.A.B.E.S. members, is not in our stars, but in ourselves."  Julius Caesar, Act 1, scene 2 (sort of)
October 20, 2020
I told you so!  Or, did I?
In case you have forgotten, or just didn't read my earlier posts, here is what I wrote on Re-Opening Day when disclosing my predictions for the shortened 2020 season:
NL Pennant – LAD (Dave Roberts is a nice guy)  "Nice guys finish…."  A quote from another MLB manager who most historians believed coached teams that underachieved.
AL Pennant – TBR (David slays both Goliaths – HOU and NYY)  Still possible, perhaps even probable?
So, was I on target, or what?
Does anyone think that Dave Roberts isn't a nice guy?  But does anyone doubt that if LAD does not win the World Series this year that his team will have woefully underachieved?  And, even if they were the victim of a cheating scandal, can't the same argument be made for 2017 and 2018?  After all, they lost two home games in each of those Series.
Obviously, I nailed the success of TBR against both NYY and HOU.  Neither was an easy ride, but Kevin Cash was able to follow his organization's "process" to the letter, and it brought him, the team and the franchise extraordinary success – it's second World Series appearance, with only the 27th highest payroll out of 30 teams.  LAD's payroll is 2nd, four times greater than TBR's.  And they also have a TBR-trained person at the helm, this being Andrew Friedman's sixth season in LA after leading the Rays for ten years.  Should there be any question who is favored to win this World Series given that the architect of the Rays' success is competing against them with four times more payroll to spend?  https://sportsbookwire.usatoday.com/2020/10/20/2020-world-series-odds-picks-predictions-and-best-bets/.
However, if you review the oddsmakers' work, you will see that the preference for LAD is not overwhelming, certainly not as much as the payroll disparity would suggest.  The oddsmakers know what B.A.B.E.S. members know – big contracts do not guaranty big performances – and that is what makes the appeal of this match-up so great.  Has there ever been a more "David v. Goliath" match-up in the World Series?  Perhaps the 1960 Series, NYY v. PIT?  Hey, and we know how that one turned out.
Compare the Rays' best players – Arozarena? Lowe? Snell? Glasnow? Morton? Brosseau?? – versus the Dodgers' – Betts! Seager! Bellinger! Turner! Kershaw! Beuhler! Jansen?  Couldn't this be a sweep by LAD?  But, honestly, how can you not pull for TBR?  Just compare Mike Brosseau's reaction to his epic home run off of Aroldis Chapman (linked in yesterday's post below) to that of Cody Bellinger on Sunday night.  https://www.youtube.com/watch?v=X9AlJtPeWeE.  Admittedly, Bellinger battled  just as fiercely as Brosseau (although Chris Martin is no Aroldis Chapman), but, seriously, who would you rather pull for?  Bellinger did not show much humility, or even much common sense in the stupid arm-bashing celebration that knocked his shoulder out of joint.  I am not a "purist" who thinks players shouldn't express emotion, but something about Bellinger just rubs me the wrong way.   I hope, however, that he will be well-enough to play tonight, and that such antics won't impact the outcome of the game.
The key, as always, should be the pitching.  Which Kershaw shows up – the regular season certain Hall-of-Famer or the Post-Season Polooka?  Will Beuhler completely surpass him as the team ace, if he hasn't already?  Who else can win a game for them?  Alternatively, can the Rays' trio of Glasnow, Snell and Morton get them four wins?  Frankly, I like their odds.  And speaking of Morton, here is what I said about him at the start of the post-season, reviewing what I had said when I predicted that he would win the AL Cy Young:
AL Cy Young – Morton (an ex-Astro takes it, just not Cole) Roughed up and injured the first week, Morton was back in the rotation for the past two weeks.  His performance will be critical to TBR's post-season success.  He won't win the Cy Young, but I am sure Charlie would rather have another World Series ring that is not tainted.  His performance in Game 7 of the ALCS and Game 7 of the WS in 2017 was pristine, and deserves to be remembered as historic.  Another such showing would accomplish that.
Well, Morton is now officially a "big-game pitcher" following his stellar outing in the ALCS Game 7 against HOU.  His legacy in HOU and TBR history is already secure, both as a person and as a competitor (teammates and managers love him).  Another outing or two like these in the World Series will certainly cement his place in all-time MLB history, and perhaps cement the nice-guy Dave Roberts' legacy as a failed manager.  Interesting contrast, don't you think?  And speaking of contrasts, I have one of my own to admit.
In announcing my World Series prediction on this Homeplate page back in July, I wrote this:
World Series – LAD (David runs out of stones for his sling, to the benefit of Dave and the Dodger fans.  It's been 31 years since the last title!  Kurt Gibson's moment was magical, but it is time for an updated highlight.) 
I also posted this, on the MLB 2020 Selections page, when recording my picks:  WS/TBR.
I am always telling you to check my entries to confirm that I did not make any mistakes.  Alas, I forgot to double-check my own.  I assume that I meant to record LAD here, because of what I said in the Homeplate post.  So, I have to disqualify my own entry for TBR, but that does not mean that I won't still be pulling for them.  I think it will be good for MLB for them to win the World Series.  However, if LAD wins, I will be happy for Dave Roberts, and will be watching the celebration by Bellinger.
Play World Series Ball!
October 19, 2020
Improbable Beats Impossible
To paraphrase Vin Scully:  "In a year that has been so impossible, only the improbable has happened!"  In other words, the two best teams in MLB this year each made it to the World Series.  It was anything but a sure bet, or an easy journey – TBR almost blew a 3 games to none lead, and LAD barely overcame a 3 games to one deficit – but both teams did just enough to win the AL and NL pennants, respectively.  Most fans will agree that they are the two best teams, and often times those two do not make it to the World Series.  That is a reassuring development in a year like 2020.  Yet, even with the two best teams, this could still be a classic David v. Goliath match-up.  I will write more about that on Tuesday, but today I want to say a few words about the losers.
HOU managed to win, even though they lost.  They became only the second team to force a Game 7 after losing the first three games of a series.  In doing that, and the way in which they accomplished it, the Astros gained back a measure of respect for the talented team that they are.  Most fans will still hate them for cheating (and this would only have intensified if they had actually defeated TBR), but with a valiant attempt at a historic comeback, and some decent comments about their efforts and those of the victor, TBR, I think the Astros may have found a measure of redemption even without winning another title.
ATL, on the other hand, are still losers, even though they won their NL division this year for the 20th time.  In the NLCS, they led LAD 3 games to 1, before being forced into a Game 7.  Then they led Game 7 by scores of 2-0 and 3-2, yet still managed to lose.  They have many young and exciting ballplayers, but the franchise continues to under-perform mightily.  How else can you characterize a team that won only one World Series with all those chances and a pitching staff that had 3 Hall of Fame starters in the rotation for ten years?  When I was growing up in Tennessee in the 60's, ATL was known as Losersville.  I think it still is.
Of course, Minneapolis is making a strong run to earn that nickname (not a political comment).  After being swept by HOU in the Wild Card Series, MIN has now lost 18 consecutive post-season games!  Impossible?  Apparently not, but certainly improbable ("not likely to be true or to happen").  OAK managed to break their own improbable run of futility – losing nine consecutive elimination games –  but still they could not get past HOU, and the rumor is that Billy Beane is finally giving up on winning the World Series. https://www.wsj.com/articles/billy-beane-set-to-leave-baseball-behind-in-fenway-sports-deal-11602538672.  I hate to categorize him as a loser.  Let's just say that he could not quite accomplish the impossible (or that he left that for TBR to accomplish).
And one more word about losers.  One B.A.B.E.S. member sent me a screen shot of a tweet saying:  "NYY is paying Gerrit Cole $324 million to sit at home and watch Framber Valdez pitch in the ALCS."   To be more specific, Cole's base salary for 2020 was $36 million; Valdez's was $582, 200.   Framber is definitely a star in the making, but you can't blame Cole for NYY's failure.  That belongs to Aroldis Chapman, compliments of Mike Brosseau.  https://www.youtube.com/watch?v=2QnRaNZdX_s.  (more about that impossible, glorious moment in sports, and the rest of the World Series match-ups, on Tuesday; note: NYY remains the only franchise ever to blow a 3 games to none lead).
As to the competition for the Rocky, nothing has changed.  All three of our leaders picked LAD to win the NL.  So they each advanced with six more points and held their positions:  Rip Lowe (37), Chip Babcock and Dan Nehrdahl (33).  Only one of us, (yours, truly) managed to pick both LAD and TBR to be in the World Series, but my 32 points are still behind the leaders.  It was improbable that I would do that, but it is still impossible for me to win since I picked LAD to win it all, as did Rip, Chip and Dan.
You can check the standings, and my math at this link:
https://babesbaseball.wordpress.com/major-league-baseball-2020/.
September 27, 2020
"Is it the Post-Season Already?"
or
"Can you believe MLB actually made it to the Post-Season?"
Which of these questions resonates most with you?  If you chose the first one, then you are probably better adjusted to COVID-19 life than most.  It means that you have not been bogged down by the boredom of life in quarantine, and have found interesting ways to pass the days since March, or at least since July 23, when the MLB season finally commenced.
If you chose the second, then you have likely been more heavily influenced by the craziness that is 2020, when seemingly every single day something unexpected – and, for many, unacceptable – seized the national psyche.  Even if you were just focusing on MLB, you would have been likely to conclude that the shortened season was going to last only 7-10 games, rather than 58-60.  Post-season?  Don't even think about it.
Well, as one of the most experienced and most respected observers of baseball in the history of the game once said:
The context was different, of course, but I never get tired of hearing that call, and I still feel the chills that I got that October night in 1988 when I watched the sporting impossible happen.  So far, in 2020, we have only seen the improbable, (unless you want to call the Marlins making the post-season an example of the impossible), but something tells me that another universally recognized "impossible" moment is in the air as we begin October baseball in a most improbable year, and with a most unusual format.  Eight three-game opening series; with the ALCS, NLCS and WS all to be played on neutral fields.  We have the possibility of another OAK v. LAD World Series, but one played indoors in Arlington, Texas, with no fans in actual attendance. If that were to come about, surely Vin Scully would come out of retirement for a Zoom call of the game.  Such a scenario would have been impossible to predict only two months ago, but now it isn't even improbable.  Such is 2020.
So, how are you doing this year, however you characterize it?  The current standings are at this link. Please check my recording of the results and my computation of the standings.  FYI, Rip Lowe leads with 31 points, followed by last year's winner, Dan Nehrdahl, and last year's runner-up, Chip Babcock, with 27 points, each.
https://wordpress.com/view/babesbaseball.wordpress.com.
While much is still to be determined, we can at least evaluate several of my predictions made in this space on Re-opening Day.  (My 20 points so far are merely middle of the pack, but I think I could still make an improbable run to become the first repeat B.A.B.E.S. winner.)
NL East – WAS (Either Scherzer or Strasburg will start nearly half of their games!)  Well, Scherzer and Strasburg actually started only 14 of the World Champions' 60 games due to injuries.  The team also suffered from a false positive Covid-19 test for Juan Soto.  The combination got them off to a terrible start, just like in 2019, but with only 60 games to play rather than 162, they had no chance to recover.
NL Central – STL (Flaherty wins the Cy Young) Flaherty had injury trouble as well, and frankly was no where near the pitcher that he was in the second half of 2019.  The team had their own Covid-19 episode and should be recognized for qualifying for the post-season, but I don't see them going very far.
NL West – LAD (Roberts' job is on the line this year, for sure)  When the best team fulfills its potential, perhaps even exceeds it considering the underachievement of many players, the manager should get more credit.  Has that happened yet?  Can he fix MVP Bellinger, who has a line of .239/.364/.789?
NL WC – ATL (they slip without Donaldson, but not out of the post-season) They did slip some, but not nearly as much as WAS, and no other team in the division rose enough to challenge ATL for the division crown.  The Miracle Marlins certainly rose above expectations, but not nearly enough to catch ATL.
NL WC – MIL (Craig Counsell is underappreciated)  They backed into the Post-Season with SFO and PHI both losing on the final day, as did they.  But with recent MVP Yelich putting up Bellinger-type #'s (.202/.350/.779), my point about Counsell may have been proven.  Would anyone guess MIL would make the post-season if Yelich had a year like this?  Counsell doesn't have Roberts'/Bellinger's supporting cast. 
NL Pennant – LAD (Dave Roberts is a nice guy)  "Nice guys finish…."  A quote from another MLB manager who most historians believed coached teams that underachieved.
AL East – TBR (could there possibly be a better year for David to slay Goliath?) Nailed this one, so far.
AL Central – MIN (Bomba Squad adds Josh Donaldson? Wow.) Well, Donaldson has not contributed much – only 6 HR's and 11 RBI – but MIN managed to do the impossible: win the division after being in third place just last week (or was it just improbable that the young CWS team was leading that late before predictably collapsing?)  Donaldson could still have a big impact on the post-season.
AL West – HOU (Only one path to redemption)  No redemption probable, if the season is any indicator.  Indeed, it makes it seem impossible, since the Astros backed into the post-season tied with MIL with the worst record of all 16 teams – 2 games below .500 at 29-31.  The sins of 2017-2019 appear confirmed in the worse possible way. Altuve, .219; Bregman, .245 – but, hey, they both are hitting better than Bellinger and Yelich, so maybe there are other explanations (but no one will believe them).
AL WC – NYY (I said in the off-season that they would win it all, but I don't have to pick them!)  Again, so many injuries, but they will still be dangerous in the post-season.  Still proud that I picked the mighty-mights TBR to win the division.
AL WC – OAK (Will Billy Bean ever win it all?  This would be a good year.)  This could be Moneyball's year to win the World Series.  What better year than the one in which the teams and the players have all lost millions of dollars?
AL Pennant – TBR (David slays both Goliaths – HOU and NYY)  Still possible, perhaps even probable?
World Series – LAD (David runs out of stones for his sling, to the benefit of Dave and the Dodger fans.  It's been 31 years since the last title!  Kurt Gibson's moment was magical, but it is time for an updated highlight.)  Hey, I even used Gibson's epic HR in my prediction.  I told you I loved that moment.
NL Batting Title – J. Turner (free agent year, and you know LAD can't pay him now)  A solid year at .311, but injuries limited him to only 41 games.
NL Cy Young – Flaherty (historically good 2nd half of 2019 continues in 2020 half-season)  A bust, no question.
NL MVP – Soto (WS champ at 21; MVP at 22)  He should win it!  Even though he missed 15 games with the false positive, he won the NL batting title already, and look at this slash line: .348/.465/1.177!  Oh, and he's only 21 years old.
AL Batting Title – T. Anderson (best player no one knows, and about to go B2B)  He was in front a week ago, but fell off in his final 7 games, just like the rest of the CWS team.
AL Cy Young – Morton (an ex-Astro takes it, just not Cole) Roughed up and injured the first week, Morton was back in the rotation for the past two weeks.  His performance will be critical to TBR's post-season success.  He won't win the Cy Young, but I am sure Charlie would rather have another World Series ring that is not tainted.  His performance in Game 7 of the ALCS and Game 7 of the WS in 2017 was pristine, and deserves to be remembered as historic.  Another such showing would accomplish that.
AL MVP – Donaldson (monster year in MIN could lead them to title) Meh. See above.  Post-season stats don't count in MVP voting.
Ok. Let the improbable or impossible begin:
https://www.mlb.com/news/mlb-2020-postseason-schedule-announced.
Note:  I changed the ballpark  picture at the masthead.  Can you name the park? (Photo taken July 29, 2018)
July 30, 2020
I told you it is going to be a weird year…
Most of you know the origin of B.A.B.E.S. – how the three founding members set out to prove that we could predict the results of MLB competition as well as any professional observer.  Within five years, the mission had been accomplished, as this post from November, 2014, explained.  https://babesbaseball.wordpress.com/2014/11/13/proving-my-point-too-well/.   Of course, almost all of the success of the endeavor is due to members like you.  I have not come close to winning the competition since I won the Rocky in our very first year, 2008, before there even was a Rocky (other than the namesake, of course). https://babesbaseball.wordpress.com/2012/03/20/remembering-rocky/.
My ability to predict team and player winners may be in a rut, but I still have the ability to make a cogent observation about baseball.  Scroll down to my post on July 22, and you will see that I prophesied that this would be a weird year (no real miracle there).  However, even I wasn't expecting to be proven correct so quickly.  On Thursday night, just 30 minutes before the start of the long-awaited season, MLB announced the addition of six teams to the post-season competition!  How weird is that?  I almost choked on the ballpark dog my concessionaire daughter, Kara, made for me, as we watched ESPN and waited for the NYY@WAS game to begin.
After finishing that dog, and then two more (only 72 short of Joey Chestnut's record),
(photo courtesy of USA Today), I started to think of how the additional teams would alter our annual competition.  The format now qualifies the top two teams in each division, as well as the next two teams in the league with the highest winning percentage, a total of eight from each league. https://www.usatoday.com/story/sports/mlb/columnist/bob-nightengale/2020/07/23/mlb-playoffs-expansion-baseball-2020-season/5497025002/.  So, we could each simply add three teams to our current picks in each league, and then make sure that we have at least two teams from each division.  That is not that big of a change, and would be easy for us to supplement.  However, the more I thought about it, the more I believed that this would actually make our task easier.
We all struggled, I am sure, with those two wild card selections – which teams to include and which to exclude, and whether to, perhaps, pick three teams from one division.  A post-season where you get to pick two teams from each division and then add two additional teams, seems to me to eliminate the hard choices.  You can simply pick all of your "bubble teams."   Moreover, obviously, no one has picked any of these additional six teams to win the World Series, so it is unlikely that you would now reconsider and vault one of those teams over your previous selections.  Therefore, adding the new selections would simply be adding possible points to the first round of the competition, and easier points, at that.  I don't think we need that.  Also, we don't want to create an outlier season that could ruin our historic statistics for percentage accuracy.  (What does MLB do this year if a player bats .400?)  (#%*!)
So, that is a very long explanation for why we are not going to make any changes to our competition.  I did consult with a few of you about this and heard some interesting proposals, but I am the Commissioner, and I get to decide what is "in the best interest of B.A.B.E.S."   Accordingly, your picks are what they are; or, as Yogi Berra said:  "If the world were perfect, it wouldn't be."
(Photo courtesy of The Sporting News/Getty Images)
How weirdly beautiful is that?  And how perfectly applicable to 2020!  Not to mention that the first game of the year was called due to a massive lightening storm and monsoon in D.C..  So NYY got a game-shortened W, just like the World Series winner will get  a season-shortened title – maybe.
Things have to start looking up soon, right? Well, perhaps not, since some other last minute player developments will definitely have an impact on our picks, even if the rule changes don't.  Here are just a few of the weird developments in the first 7 days:
Kershaw scratched from Re-Opening Day start.
Juan Soto (my NL MVP) gets COVID-19.
Verlander and Kluber (and others) down after one start
Entire Marlins team goes into quarantine (and they lead the NL East!)
So many other injuries! https://www.espn.com/mlb/injuries.
LAD's Joe Kelly suspended 8 games in a 60 game season! (for throwing at the Astros, even though he was not a Dodger in 2017)(and the Astros players still have received no punishment….)
Ok, enough craziness for the first report.
One positive note, in my opinion, is that the games themselves have been worth watching, even without fans.  It is still MLB, and that is still a beautiful thing.  But then, it is also human nature to want to watch a train-wreck in slow motion.  You just can't take your eyes off of it.
July 23, 2020
It's Re-Opening Day – Let's Play Two!  
NYY @ WAS – Cole v. Scherzer, 7:08 p.m. EDT
SFO @ LAD –  Cueto v. Kershaw, 10:08 p.m. EDT
And for your edification, or amusement, here are my picks in our race for The Rocky, 2020, along with a hint at my logic:
NL East – WAS (Either Scherzer or Strasburg will start nearly half of their games!)
NL Central – STL (Flaherty wins the Cy Young)
NL West – LAD (Roberts' job is on the line this year, for sure)
NL WC – ATL (they slip without Donaldson, but not out of the post-season)
NL WC – MIL (Craig Counsell is underappreciated)
NL Pennant – LAD (Dave Roberts is a nice guy)
AL East – TBR (could there possibly be a better year for David to slay Goliath?)
AL Central – MIN (Bomba Squad adds Josh Donaldson? Wow.)
AL West – HOU (Only one path to redemption)
AL WC – NYY (I said in the off-season that they would win it all, but I don't have to pick them!)
AL WC – OAK (Will Billy Bean ever win it all?  This would be a good year.)
AL Pennant – TBR (David slays both Goliaths – HOU and NYY)
World Series – LAD (David runs out of stones for his sling, to the benefit of Dave and the Dodger fans.  It's been 31 years since the last title!  Kurt Gibson's moment was magical, but it is time for an updated highlight.)
NL Batting Title – J. Turner (free agent year, and you know LAD can't pay him now)
NL Cy Young – Flaherty (historically good 2d half of 2019 continues in 2020 half-season)
NL MVP – Soto (WS champ at 21; MVP at 22)
AL Batting Title – T. Anderson (best player no one knows, and about to go B2B)
AL Cy Young – Morton (an ex-Astro takes it, just not Cole)
AL MVP – Donaldson (monster year in MIN could lead them to title)
You still have time to join the competition.  Just email your selections to babesbaseball@gmail.com by the end of the day.
(Can you name this park?)
July 22, 2020
And then there was one…
After waiting 122 days past the originally scheduled MLB Opening Day, we are finally down to just one more day.  2020 was supposed to be the year with the earliest domestic Opening Day ever (March 26), but instead it will have the latest.  July 23 is usually the second week after the All-Star Break, a point when most teams are approaching 100 games played, and when the players start to look toward the stretch drive to the post-season.  That is certainly consistent with 2020's reduced 60-game schedule, that will start tomorrow with NYY@WAS – Cole v. Scherzer.   The whole season will be a stretch-drive, and every team will be in it!
Much has been written already about what a weird year this will be.  Here is just one example, from ESPN's Jeff Passan. https://www.espn.com/mlb/story/_/id/29514092/the-weirdest-mlb-season-ever-start-here-how-baseball-2020-play-out.   And now, news is breaking that Mookie Betts will sign a $365 million contract extension with LAD, with a $65 million signing bonus!  Does that sound weird for an industry that is projecting a 70% reduction in revenue this year?  Perhaps the same justification for that deal can be used to explain the stock market, where the Dow Jones average closed today above 27,000.  Pandemic?  What pandemic?  Obviously, it is not just MLB that is having a weird season.  And this is, after all, the 13th year of our B.A.B.E.S. competition.  Just a coincidence, right?
But apparently, MLB is going to have a season, and I think it will be weirdly beautiful.  I watched NYY@NYM on MLB Network Monday night, and the sole focus was on the game!  There were no distractions in the stands, and very little else for the commentators to comment on, except the game!  One of them said, in fact, that this year the game is going to have to sell itself.  I, for one, have no doubt about the success of that pitch.  (See the B.A.B.E.S. mission statement at the top of our masthead!)
My love for the greatest game will not be diminished by a short season, or the absence of key players who have "opted-out", or even the appearance that each game is a practice.  It is still baseball – Major League Baseball – and that is all that counts for me.  Let's Play.
July 7, 2020
The MLB Schedule is out, but so are many players!
Despite some high-profile positive Covid-19 tests – Freddy Freeman, Joey Gallo – the overall infection rate of the players, coaches and staff tested was less than 2%.  Apparently that was encouraging enough for MLB to go forward with the short-season, for the schedule was released yesterday.
https://www.espn.com/mlb/story/_/id/29411548/mlb-schedule-release-opening-day-games-key-dates-big-matchups-circling
Regulation play begins July 23 and is scheduled to run through September 27.  Each team will play its four division rivals 10 times, and then play each of the five teams in its corresponding division of the other league four times, for a total of 60 games.  The post-season will follow the same format as a normal year, so all of your selections will be the same.
The deadline for getting me new picks is 6 pm, July 23, when the first pitch of the year will be thrown by a NYY starter to the WAS lead-off batter (probably Gerrit Cole to Trea Turner – not a bad way to start the season).  As always, I will simply renew your picks from last year if I do not hear from you (and remember, that approach won the Rocky for Gus Pompa in 2018).
Feel free to encourage any of your friends to join in.  Although we have had many surprise results in our first twelve years of B.A.B.E.S. competition, this selection process should be the most unpredictable – just like everything else in the world in 2020.
As always, I recommend that you keep an eye on the status of players leading up to the re-opener.  In addition to injuries and Covid-19 positive tests, valuable players continue to opt-out of the season.  The Braves' Nick Markakis joined that list yesterday.
https://www.espn.com/mlb/story/_/id/29417681/nick-markakis-becomes-second-braves-player-opt-season.
Happy 4th of July, 2020 – seriously
It is an unusual time in every respect in America, and chances are you are enjoying a muted holiday celebration – especially if you are a baseball fan.  Most of the ballparks across America today looked like this one in Fort Marcy Park, Santa Fe, NM – empty.
In fact, minor league parks will remain vacant for the entire season, as all MiLB play has been cancelled for the first time in its 120 year history. https://www.espn.com/mlb/story/_/id/29390182/key-questions-minor-league-baseball-officially-cancels-2020-season.
As I mentioned in the last post, it remains to be seen if MLB will be able to play its shortened season, but the teams have nevertheless begun to prepare.   So for now, you should continue to work on your picks but pay attention to the daily news.  LAD's David Price announced today that he is opting out of the season, and LAA's Mike Trout is reportedly considering doing the same.  These decisions by key players, and the sprint to the finish in a 60-game season, will make this an especially difficult year to predict the winners.  https://www.mlb.com/news/top-summer-camp-storyline-for-every-mlb-team.
I am working on my picks while also trying to predict who will be the winners in the struggle for America's future.  What will the country look like on July 4, 2021?  That is exceptionally hard to imagine, but here's hoping there will at least be baseball in all of the parks across the land.
God Bless America and let us Play Ball.  Please.
June 25, 2020
Are we going to play ball, or what?
I was beginning to think that my well-intentioned Memorial Day post of the Naval officer playing "Taps" would actually become a cynical requiem for the 2020 MLB season.  There is still plenty of cause for cynicism, but at the moment it looks like there will be Major League baseball played this year.  COVID-19 could still have something to say about that. https://www.si.com/mlb/2020/06/26/baseball-coronavirus-return-big-questions.  However, it appears that the MLBPA has accepted the owners' terms for commencing play even if the two sides can't agree on anything else, including whether the process has created a labor cause of action for bad faith negotiating.
Was I prophetic in my New Year's 2019 post?  Did Rob Manfred pass or fail his first big test? https://babesbaseball.wordpress.com/2018/12/31/fields-of-change-2019/.   We shall see.
Given the resumption of play in the midst of the pandemic and on-going labor strife, it is going be a truly weird season. https://www.si.com/extra-mustard/2020/06/24/mlb-return-coronavirus-health-protocols.  But at least almost all of the crazy changes that were being proposed for the shortened season will not be implemented.  https://www.mlb.com/news/mlb-announces-2020-regular-season.
Only the DH in the NL and starting a runner on second base in all extra-innings will directly affect play on the field.  These are in addition to the previously announced changes such as the minimum number of batters a reliever must face.  https://www.mlb.com/news/mlb-rule-changes-for-2020-season.    The likely result will be some surprise post-season qualifiers and perhaps an unexpected World Series champion.  But that is why they play the games, and why we try to predict the winners.
I will update Homeplate with more details as they become available, but for now start working on those picks.  Opening day is estimated to be July 25, only 4 weeks away. In case you have forgotten in the extended off-season, here is a link to the picks you need to send me before Reopening Day.
https://babesbaseball.wordpress.com/membershipcompetition/.
May 25, 2020 – Memorial Day
No matter what you are doing today, even if it is still sheltering-at-home, please remember that the freedom to do that or any other activity in America was purchased with the blood of thousands of brave soldiers.  We may debate the wisdom of the governmental authorities directing the response to COVID-19, and we may oppose the current or former wars in which the Nation has been embroiled, but we should agree at least that the sacrifices made for our country in each of these efforts is worth remembering.
(Tower Life Building, San Antonio)
It's May 1st  – We get to turn the page!  
(photo from Nolan Ryan Foundation)
For many years Mrs. Commissioner (a very talented photographer) has been making a 12-month family calendar.  Each month features photos highlighting events we enjoyed in that month the previous year.  Consider it our personal Time-Hop app or Facebook Memories page.  The calendar hangs in our kitchen and so we see it multiple times every day.  Usually by the end of a month – regardless of whether it has 28, 29, 30 or 31 days – the photos get a bit too familiar, and we anticipate the new ones for the next month.
Well, we have just completed a month with 30 days, but of course we have been in the kitchen for virtually EVERY HOUR due to the COVID-19 quarantine.  We may never want to see April 2020's pictures again!  Fortunately, May 1st has finally arrived and we get to turn the page.  This may have been the most anticipated turn of the calendar in our family's history, even though the pictures are not particularly historic. (If only there was a MLB ballpark somewhere in those cityscapes!)
(photos courtesy of Mrs. Commissioner, although not all her work)
While we are still somewhat in quarantine, as of today certain businesses in Texas can also begin to turn the page.  Restaurants and stores can start admitting customers today up to 25% of occupancy capacity under Governor Abbott's latest executive order.  So I assume that we will venture out tonight for our first public engagement since March.  This should be a May 1st that we will remember for a while, and it should create some good pictures that will be worth reviewing on our calendar come May 1, 2021.
I already have one historic May 1st memory that is imprinted on my brain.  It is of a 44 year-old Nolan Ryan striking out future Hall-of-Famer Robbie Alomar for the final out of his 7th no-hitter on May 1, 1991.  https://www.youtube.com/watch?v=L9m_Kk4kzAY.
And, yes, I remembered that this happened on this date without being reminded of it by any sports website.  It was during the time that I was a die-hard Rangers fan.  Practically every time Big Tex pitched it was memorable, but this one even more so.
(photo: Louis DeLuca, Dallas Times Herald)(what a great photo! The essence of Big Tex -striding off the mound with even the Blue Jays' coach looking defeated in the background next to those two zeroes – no runs, no hits, no problem!)
I wasn't at the game, but I watched it on television from my home about twenty miles from Arlington Stadium.    I remember thinking that I had about as much chance of getting a hit off of Ryan from that distance as did any of the Blue Jays from 60', 6"!  And that Toronto team was on its way to the post-season with several All-Star players in addition to Alomar.   The box score proves that this was certainly one of the most dominating performances ever by a 44 year-old pitcher.  https://www.baseball-almanac.com/boxscore/05011991.shtml,  with 16 strike outs, no hits and only 2 walks.  There wasn't even a particularly note-worthy defensive play as is so often the case in no-hitters and perfect games.
This is the closest TOR came to getting a hit.  https://www.youtube.com/watch?v=i_cHwJYAwm0.   Compare that to this catch that saved Mark Buehrle's perfect game.  https://www.mlb.com/video/wise-robs-homer-saves-perfecto-c5699065.  Dewayne Wise had to catch the ball twice, once over the fence in his glove and then again on the warning track with his bare hand!  No extraordinary fielding was needed to preserve the historic event this night.  The Ryan Express was simply unhitable on May 1, 1991.  His mastery made even the notoriously stoic Ryan smile.  And who knew that he had such a nice smile?  You have to love the joy that sports accomplishments can bring out in even the most understated of men.  We need it now more than ever, and I can't wait to experience it live again.  I would happily turn the page to this picture every day.
(photo from Nolan Ryan Foundation)
Thanks, Nolan, for giving us all something to smile about, even 29 years later.    Happy May Day!
April 20, 2020
"Happy 4/20 Day!"
I awoke at 5:40 a.m. to the ding of a text from my eldest daughter sending me this greeting.  My first thought was, 'alright! TBR v. HOU, Snell v. Verlander!'  Then I remembered that there would be no live baseball game on this 4/20 because of Covid-19.  I then also realized that she wasn't talking about baseball, although she is as much of a fan as any of my three children.
Since I was awake I decided to go for an early walk with our dog and my outlook was brightened by the beauty of my hometown, which I have been seeing a lot more of these days with no baseball to occupy my time.  As I walked I was reminded of how much I enjoy living downtown when it includes vistas like this one.
This is no urban jungle, at least not one in the pejorative sense of the term.  And that made me think of the term "concrete jungle" which brought back to mind my least favorite ball park, Tropicana Field.
(SDO@TBR, August 14, 2016, St. Petersburg, FL)  Was ever a park more inappropriately named?  This view challenges my assertion on 4/13 that a ball park is beautiful at work or at play.  I love (not!) how the carpet goes from green to brown to simulate the outfield warning track.  Does the player have to look down to see the color change or is he expected to discern it in his field of vision?  Can he see down while looking up? Of course, he might as well look down as it is no harder to see the ball from that posture than it is by looking into the white teflon roof.  There may also be concrete in those supports holding up the roof, but there is undoubtedly concrete under the synthetic turf. It is an ugly, cavernous concrete mall, not a tropical field, and it should not even be called a ballpark.  And, other than during a pandemic, more people go to the retail mall than to this baseball one.
I could have used this photo also in my 4/13 reference to "Silent Spring."  I think the announced attendance that night was under 10,000, and the actual attendance was around 5,000.  It was so quiet that we could hear the hot dog vendor in right field from our seats all the way over in left field.
So, no doubt, were they actually playing MLB games today, the TBR players would have been happy to be in Houston, even if they did have to worry about banging trash cans.  Hey, at least they would be harder to hear in Minute Maid than at The Trop.
And I know Bob Marley loved kettle drums.  https://www.youtube.com/watch?v=hEP90YLHDCE.
April 15, 2020
Happy Jackie Robinson Day!
MLB may not be playing live games this year on the day it named in his honor back in 1997, but at least we also don't have to worry about filing our tax returns on this Jackie Robinson Day.  Let's all hope that when the extended IRS filing deadline comes around on July 15, we all will again be enjoying in the ballpark of our choice the great game that Jackie played so beautifully .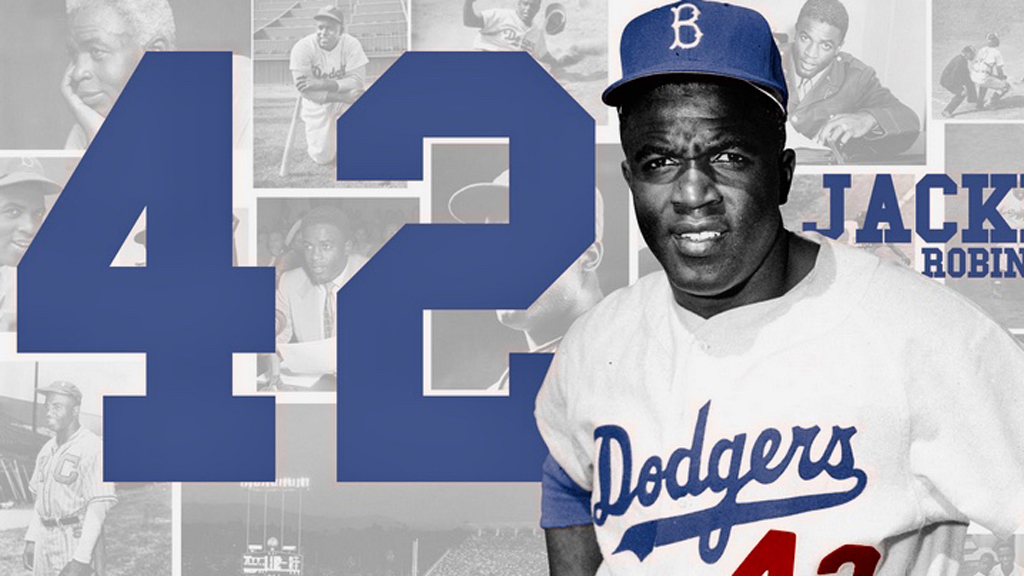 Long-time B.A.B.E.S. members may recall my observations about the movie "42" when it was released in 2013.  I plan to watch it again tonight with my son, which should be an excellent two-hour break from quarantine.   We all remember Robinson as a great and ground-breaking ball-player.  One who knew him well, Negro League great Buck O'Neil, may have best summarized Jackie's impact on our country as a whole:
"Before Martin [Luther King Jr.], there was Jackie, before Rosa Parks, there was Jackie, before Brown v Board of Education, there was Jackie, before the Civil Rights marches in the South, there was Jackie, before Thurgood Marshall was named to the Supreme Court of the United States, there was Jackie, and before President Truman desegregated the military, there was Jackie."
I would add this:  "before Jackie Robinson, baseball and our country were incomplete."
Here is the link to my earlier post if you are interested. https://babesbaseball.wordpress.com/2013/05/04/of-course-you-can/.
April 13, 2020
Silent Spring
(U. S. Cellular Field, Aug. 16, 2015)
Okay, so it wasn't Spring, but the photo above was the closest one I could find in my personal archives depicting an empty stadium.  Jack and I got to the ballpark very early that Sunday afternoon in Chicago, even earlier than we usually do, and I remember intentionally taking advantage of the emptiness of the stands to take this picture.  It did not stay that way for long.
A ballpark is a beautiful place regardless of whether it is at work or at rest.  That is true even for a park that was described as a "concrete behemoth" despite having been designed by the same firm that oversaw the simultaneous construction of Camden Yards, the now-classic park that ushered in the era of retro-parks and opened only one year after "New Comiskey" debuted on Chicago's South Side in 1991.
Personally, I liked U. S. Cellular more than the critics, although it has been improved by several renovations in its now thirty-year history.  I do wonder, however, why they positioned it away from the downtown view, which could have been spectacular from our seats in the right field upper deck.  Unfortunately, we had to go down the steps and pose on the concourse to get the Second City in the background.
B.A.B.E.S. member Matt Bardwell, obviously a North Sider with his Cubs hat, and his lovely wife Jenna were our hosts that day, even on the South Side.  Matt was runner-up for the Rocky in 2014, but I guess he was satisfied with the consolation prize, the Cubs' 2016 World Championship.  (Not as great as winning the Rocky, but it will do.)  You can see the impressive skyline of Chicago in the background. That would have made an iconic outfield view, much more so than the sliver of Lake Michigan you can see on a really clear day.  (Go back to the picture above and zoom to the left of the Xfinity sign in left field, and you can almost make out a sail boat on the water between the buildings.)
As we continue to wait out the COVID-19 virus and hope for the return of baseball, I have been reviewing many of my photos from the nineteen parks Jack and I have visited together.  If this continues, I may spend the rest of the Spring reliving those good times.  Father and son ballpark photos may be all that I have to post in the weeks to come, and if so I hope you will enjoy seeing them as much as Jack and I have enjoyed posing for them.  I am also doing quite a bit of writing and some reading, so I should have a few other thoughts to share during this Silent Spring.   Obviously, we still have a ways to go before things return to "normal."
Here is a picture of Market Street in downtown San Antonio on a work day last week. Living in downtown, I have had very little trouble social distancing.  The Riverwalk may not be silent, but it is very, very quiet.
As you may know, the term "Silent Spring" was coined by Rachel Carson, or her editors, as the title for her ground-breaking book published in 1962.  It was the first work to challenge the aggressive use of pesticides in agriculture as well as other chemicals being used in the heavily industrialized second half of the Twentieth Century.  She warned that the overuse of chemicals (she did not advocate for elimination of them, as is often suggested) would ultimately have a devastating effect on wildlife, leaving us in an eerily silent season. Her work is considered by most experts to be the beginning of the modern environmentalist movement, and she is credited with having a significant impact on the health of the planet.   You can read more about her at this link.
https://www.rachelcarson.org/SilentSpring.aspx
I have not actually read Silent Spring, but given the current pandemic quarantine, and the absence of Spring baseball, I think I will check it out.  Obviously, we have some new hazards in the United States and around the world to become educated about.  Although no one seems to know if the COVID-19 is a naturally occurring or man-made killer, my guess is that man had something to do with it, and that is not even considering my theology.  There is a theory being espoused, however, that not every consequence of COVID-19 is bad.  https://www.usatoday.com/story/news/factcheck/2020/03/25/fact-check-coronavirus-crisis-benefiting-environment/2908300001/.  I am no scientist, but I can say that the San Antonio River is running a little clearer these days.
Of course, San Antonio itself is always beautiful, in my biased opinion.
This is my commute to the office, when our building isn't under a lock down.  Who knows when that will next be?
One thing I do know for certain, however, is that when baseball returns, it will play a major part in healing our nation and other parts of the world who have discovered the beauty of the greatest game, like Japan and Korea and Australia.  Almost all B.A.B.E.S. members will remember the amazing impact MLB had on our country after the 9/11 attacks.  The COVID-19 killer has shown no prejudice based on borders.  Therefore, the nationalistic video clip I have posted several times of President Bush throwing out the first pitch in Game 3 of the 2001 World Series in Yankee Stadium is not truly applicable.  Yet, baseball provided the platform for that incredible moment of national healing, and I never get tired of watching it.
In many ways, this new threat to America and the world is a much greater threat to us and to baseball than were the terrorist attacks.  Then the continuation of play depended largely on the security of our borders and the expertise of game day operations officials and local law enforcement.  Obviously they did a stellar job then and have continued to do so for the nearly twenty years since 9/11/01.  But this killer is harder to stop at the border and even harder to detect in a crowd.  So it seems almost certain that when baseball does return it will be without fans in the stands, at least at first.  If that occurs, then every game will be like the one BAL and CWS played in Camden Yards in 2015 after many days of rioting in Baltimore put the city under semi-martial law.
If that happens, our Silent Spring will continue at least for the players.  Perhaps the game-day operations officials will figure out a way for fans to Zoom-in to the ballpark sound system and cheer on their teams.  But silent or rowdy, live or telecast, there are two words I can hardly wait to hear:
"Play ball!"
Pat Andriola – (28)  NL East/WAS; Central/STL (1); West/LAD(3); Wildcards/SDO(3); NYM; NL LCS/LAD(6); AL East/BOS; Central/DET; West/SEA; Wildcards/CLE(3); TOR(3); AL LCS BOS; WS/LAD(12); NL MVP/J. Upton; NL Cy Young/KERSHAW; NL Batting/T. Storey; AL MVP/Trout ; AL Cy Young/HERNANDEZ; AL Batting/Altuve
Edmund Attanasio  – (1) NL East/WAS; Central/PIT; West/SFO; Wildcards/CHI;(1) NYM; NL LCS/WAS; AL East/BOS; Central/DET; West/LAA; Wildcards/KCR; SEA; AL LCS BOS; WS/BOS; NL MVP/HARPER; NL Cy Young/KERSHAW; NL Batting/HARPER; AL MVP/Trout; AL Cy Young/HERNANDEZ; AL Batting/TROUT
Chip Babcock – (45) NL East/ATL(3); Central/STL(1); West/LAD(3); Wildcards/WAS; SDO(3); NL LCS/LAD(6); AL East/NYY(1); Central/MIN(3); West/HOU(1); Wildcards/OAK(1); TBR(1); AL LCS NYY; WS/LAD(12); NL MVP/Bellinger; NL Cy Young/Scherzer; NL Batting/Betts; AL MVP/Trout; AL Cy Young/Cole; AL Batting/LeMahieu (10)
Matt Bardwell  – (16) NL East/NYM; Central/CHI(3); West/COL; Wildcards/STL(3); SDO(3); NL LCS/CHI; AL East/BOS; Central/MIN(3); West/HOU(1); Wildcards/TOR(3); DET; AL LCS DET; WS/CHI; NL MVP/Rizzo; NL Cy Young/Kershaw; NL Batting/Rizzo; AL MVP/Trout; AL Cy Young/Porcello; AL Batting/Mi. Cabrera
Pete Broderick  – (42) NL East/ATL(3); Central/CIN(1); West/LAD(3); Wildcards/COL; WAS; NL LCS/LAD(6); AL East/NYY(1); Central/MIN(3); West/HOU(1); Wildcards/OAK(1); TBR(1); AL LCS/NYY; WS/LAD(12); NL MVP/Betts; NL Cy Young/Flaherty; NL Batting/Yelich; AL MVP/Trout; AL Cy Young/Glasnow; AL Batting/LeMahieu (10)
Rob Carington  – (39) NL East/ATL(3); Central/CIN(1); West/LAD(3); Wildcards/CHI(1); PHI; NL LCS/LAD(6); AL East/NYY(1); Central/MIN (3); West/OAK(3); Wildcards/HOU(3); CWS(3); AL LCS/NYY; WS/LAD(12); NL MVP/Acuna; NL Cy Young/deGrom; NL Batting/Yelich; AL MVP/Torres; AL Cy Young/Cole; AL Batting/Trout
William Cupelo – (33) NL East/ATL(3); Central/PIT; West/LAD(3); Wildcards/WAS; SFO; NL LCS/LAD(6); AL East/TBR(3); Central/DET; West/OAK(3); Wildcards/NYY(3); BOS; AL LCS DET; WS/LAD(12); NL MVP/VOTTO; NL Cy Young/KERSHAW; NL Batting/MCCUTCHEN; AL MVP/Trout; AL Cy Young/OHTANI; AL Batting/TROUT
Patrick Despain – (18) NL East/WAS; Central/STL(1); West/LAD(3); Wildcards/ATL(1); SDO(3); NL LCS/LAD(6); AL East/TBR(3); Central/DET; West/TEX; Wildcard/OAK(1); BOS; AL LCS TEX; WS/TEX; NL MVP/A. GONZALEZ; NL Cy Young/KERSHAW; NL Batting/MCCUTCHEON; AL MVP/CABRERA; AL Cy Young/OHTANI; AL Batting/CABRERA
Carey Edwards – (7) NL East/PHI; Central/MIL(1); West/ARI; Wildcards/WAS; COL; NL LCS/PHI; AL East/NYY(1); Central/MIN(3); West/HOU(1); Wildcard/BOS; OAK(1); AL LCS HOU; WS/HOU; NL MVP/Harper; NL Cy Young/Strasburg; NL Batting/Yelich; AL MVP/Bregman; AL Cy Young/Verlander; AL Batting/Altuve
Ross Forbes – (25) NL East/ATL(3); Central/CHI(3); West/LAD(3); Wildcards/CIN(3); SDO(3); NL LCS/LAD(6); AL East/NYY(1); Central/CLE(1); West/HOU(1); Wildcard/TEX; TBR(1); AL LCS NYY; WS/NYY; NL MVP/ACUNA; NL Cy Young/Beuhler; NL Batting/Bellinger;  AL MVP/Judge; AL Cy Young/Cole; AL Batting/Altuve
Will Forbes –  (25) NL East/WAS; Central/CHI(3); West/LAD(3); Wildcards/MIL(3), ARI; NL LCS/LAD; AL East/NYY(1); Central/CLE(1); West/HOU(1); Wildcard/MIN(1); BOS; AL LCS NYY; WS/LAD(12); NL MVP/Bryant; NL Cy Young/Kershaw; NL Batting/Votto;  AL MVP/Trout; AL Cy Young/Kluber; AL Batting/Altuve
JW Galloway – (7) NL East/WAS; Central/CHI(3); West/SFO; Wildcards/STL(3); LAD(1); NL LCS/WAS; AL East/BOS; Central/DET; West/SEA; Wildcards/BAL; LAA; AL LCS DET; WS/DET; NL MVP/STANTON; NL Cy Young/KERSHAW; NL Batting/RIZZO; AL MVP/Trout; AL Cy Young/HERNANDEZ; AL Batting/CANO
Leo Gonzalez – (11) NL East/NYM; Central/CHI(3); West/LAD(3); Wildcards/WAS; CIN(3); NL LCS/NYM; AL East/TOR(1); Central/KCR; West/HOU(1); Wildcards/TEX; LAA; AL LCS HOU; WS/HOU; NL MVP/Harper; NL Cy Young/Scherzer; NL Batting/Harper; AL MVP/Trout; AL Cy Young/HERNANDEZ; AL Batting/CANO
Eric Gouldsbury – (12) NL East/NYM; Central/CHI(3); West/LAD(3); Wildcards/STL(1); WAS; NL LCS/CHI; AL East/BOS; Central/CLE(1); West/HOU(1); Wildcards/TOR(3); SEA; AL LCS BOS; WS/BOS; NL MVP/Turner; NL Cy Young/Kershaw; NL Batting/Turner; AL MVP/Betts; AL Cy Young/Sale; AL Batting/Lindor
Jeff Hamilton – (14) NL East/MIA(1); Central/CHI(3); West/ARI; Wildcards/STL(3); NYM; NL LCS/CHI; AL East/TOR(1); Central/KCR; West/TEX; Wildcards/HOU(3); CLE(3); AL LCS TOR; WS/TOR; NL MVP/Goldschmidt; NL Cy Young/KERSHAW; NL Batting/Goldschmidt; AL MVP/Donaldson; AL Cy Young/Carasco; AL Batting/Altuve
Eric Hoffman  – (9) NL East/WAS; Central/STL(1); West/LAD(3); Wildcards/CHI(1); COL; NL LCS/WAS; AL East/NYY(1); Central/CLE(1); West/HOU(1); Wildcards/TBR(1); KCR; AL LCS NYY; WS NYY; NL MVP/Goldschmidt; NL Cy Young/deGrom; NL Batting/Yelich; AL MVP/Altuve; AL Cy Young/Cole; AL Batting/Yelich
Pete Hosey – (28) NL East/ATL(3); Central/CHI(3); West/LAD(3); Wildcards/WAS; STL(3); NL LCS/CHI; AL East/BOS;  Central/CLE(1); West/HOU(1); Wildcards/NYY(3); OAK(1); AL LCS NYY; WS/NYY; NL MVP/Story; NL Cy Young/Wheeler; NL Batting/Harper; AL MVP/Trout; AL Cy Young/Bieber (10); AL Batting/Trout
Steve Jacobs – (23) NL East/WAS; Central/MIL(1); West/LAD(3); Wildcards/PHI; STL(3); NL LCS/WAS; AL East/NYY(1); Central/MIN(3); West/HOU(1); Wildcards/BOS; TBR(1); AL LCS NYY; WS/NYY; NL MVP/Arenado; NL Cy Young/Scherzer; NL Batting/Yelich; AL MVP/Judge; AL Cy Young/Bauer (10); AL Batting/Altuve
Tony Liccione –(8) NL East/WAS; Central/STL(1); West/LAD(3); Wildcards/CHI(1); PIT; NL LCS/WAS; AL East/BOS; Central/DET; West/SEA; Wildcards/LAA; CWS(3); AL LCS SEA; WS/SEA; NL MVP/STANTON; NL Cy Young/SCHERZER; NL Batting/McCUTCHEN; AL MVP/Trout; AL Cy Young/PRICE; AL Batting/CANO
Rip Lowe – (49) NL East/ATL(3); Central/STL(1); West/LAD(3); Wildcards/MIL(3); ARI; NL LCS/LAD(6); AL East/NYY(1); Central/MIN(3); West/OAK(3); Wildcards/TBR(1); HOU(3); AL LCS NYY; WS/LAD(12); NL MVP/Betts; NL Cy Young/Scherzer; NL Batting/Betts; AL MVP/Judge; AL Cy Young/Cole; AL Batting/LeMahieu (10)
Tom Marchiando – (12) NL East/ATL(3); Central/CHI;(3) West/LAD(3); Wildcards/NYM; COL; NL LCS/LAD; AL East/NYY(1); Central/MIN; West/HOU(1); Wildcards/OAK(1); LAA; AL LCS/NYY WS/NYY; NL MVP/Acuna; NL Cy Young/Scherzer; NL Batting/Blackmon; AL MVP/Judge; AL Cy Young/Cole; AL Batting/Trout
Ray Mileur – (6) NL East/WAS; Central/STL(1); West/LAD(3); Wildcards/PIT; SFO; NL LCS/STL; AL East/BOS; Central/DET; West/TEX; Wildcards/OAK(1); TBR(1); AL LCS TEX; WS/STL; NL MVP/CRAIG; NL Cy Young/WAINWRIGHT; NL Batting/CARPENTER; AL MVP/Trout; AL Cy Young/DARVISH; AL Batting/CABRERA
Eric Monacelli – (18) NL East/NYM ; Central/STL(1); West/LAD(3); Wildcards/COL; CHI(1); NL LCS/LAD(6); AL East/BOS; Central/CLE(1); West/HOU(3); Wildcards/NYY(3); LAA; AL LCS/HOU; WS/HOU; NL MVP/Arenado; NL Cy Young/deGrom; NL Batting/Blackmon; AL MVP/Trout; AL Cy Young/Cole; AL Batting/Altuve
Jed Morrison – (31) NL East/PHI; Central/CHI(3); West/LAD(3); Wildcards/ATL(1); PIT; NL LCS/LAD(6); AL East/NYY(1); Central/CWS(1); West/LAA; Wildcards/MIN(1); HOU(3); AL LCS NYY; WS/LAD(12); NL MVP/Harper; NL Cy Young/Scherzer; NL Batting/Yelich; AL MVP/Trout; AL Cy Young/Cole; AL Batting/Anderson
Dan Nerdahl – (45) NL East/ATL(3); Central/CIN(1); West/LAD(3); Wildcards/MIL(3); WAS; NL LCS/LAD(6); AL East/NYY(1) Central/MIN(3); West/HOU(1); Wildcards/OAK(1); TBR(1); AL LCS/NYY ; WS/LAD(12); NL MVP/Bellinger;  NL Cy Young/Strasburg; NL Batting/Yelich; AL MVP/Chapman; AL Cy Young/Giolito; AL Batting/LeMahieu (10)
Austin Philbin  – (10) NL East/NYM; Central/CHI(3); West/LAD(3); Wildcards/ATL(1); ARI; NL LCS/CHI; AL East/NYY(1); Central/CWS(1); West/HOU(1); Wildcards/BOS; KCR; AL LCS NYY; WS/NYY; NL MVP/Betts; NL Cy Young/Buehler; NL Batting/Rizzo; AL MVP/Trout; AL Cy Young/Cole; AL Batting/Anderson
Gus Pompa – (23) NL East/PHI; Central/STL(1); West/LAD(3); Wildcards/CHI(1); MIL(3); NL LCS/WAS; AL East/BOS; Central/CLE(1); West/HOU(1); Wildcards/NYY(3); LAA; AL LCS/BOS; WS/WAS;  NL MVP/Acuna; NL Cy Young/Scherzer; NL Batting/Freeman; AL MVP/Trout; AL Cy Young/Bauer (10); AL Batting/Altuve
Alix Rose  – (12) NL East/WAS; Central/STL(1); West/SFO; Wildcards/LAD(1); CHI(1); NL LCS/STL; AL East/BOS; Central/MIN(3); West/OAK(3); Wildcards/TEX; NYY(3); AL LCS BOS; WS/STL; NL MVP/Betts; NL Cy Young/Buehler; NL Batting/Betts; AL MVP/Trout; AL Cy Young/Cole; AL Batting/Trout
Carl Rose  – (35) NL East/ATL(3); Central/CIN(1); West/LAD(3); Wildcards/STL(3); WAS; NL LCS/LAD(6); AL East/NYY(1); Central/MIN(3); West/HOU(1); Wildcards/OAK(1); TBR(1); AL LCS/HOU; WS/LAD(12); NL MVP/Acuna; NL Cy Young/Buehler; NL Batting/Arenado; AL MVP/Chapman; AL Cy Young/Morton; AL Batting/Trout
Jack Rose – (15) NL East/WAS; Central/MIL(1); West/LAD(3); Wildcards/COL; ATL(1); NL LCS/WAS; AL East/NYY(1); Central/MIN(3); West/OAK(3); Wildcards/BAL; CWS(3); AL LCS NYY; WS/WAS; NL MVP/Yelich; NL Cy Young/Kershaw; NL Batting/Bellinger; AL MVP/Lindor; AL Cy Young/Sale;  AL Batting/Judge
Jennifer Rose – (10) NL East/NYM; Central/CIN(1); West/LAD(3); Wildcards/SFO; PIT; NL LCS/NYM; AL East/BOS; Central/CLE(1); West/HOU(1); Wildcards/OAK(1); NYY(3); AL LCS HOU; WS/HOU; NL MVP/T. Turner; NL Cy Young/Greinke; NL Batting/Blackmon; AL MVP/Altuve; AL Cy Young/Keuchel; AL Batting/Altuve
Kara Rose – (27) NL East/NYM; Central/STL(1); West/LAD (3); Wildcards/PIT; MIA(3); NL LCS/LAD(6); AL East/NYY(1); Central/KCR; West/LAA; Wildcards/OAK(1); TEX; AL LCS LAA. WS/LAD(12); NL MVP/PUIG; NL Cy Young/Kershaw; NL Batting/PUIG; AL MVP/Trout; AL Cy Young/Sale; AL Batting/Altuve
Scott Rose – (44) NL East/WAS; Central/STL(1); West/LAD(3); Wildcards/ATL(1); MIL(3); NL LCS/LAD(6); AL East/TBR(3); Central/MIN(3); West/HOU(1); Wildcards/NYY(3); OAK(1); AL LCS/TBR(6); WS/LAD(12); NL MVP/Soto; NL Cy Young/Flaherty; NL Batting/J. Turner; AL MVP/Donaldson; AL Cy Young/Morton; AL Batting/Anderson
Bruce Ruzinsky– (35) NL East/ATL(3); Central/CIN(1); West/LAD(3); Wildcards/SDO(3); WAS; NL LCS/LAD(6); AL East/NYY(1); Central/MIN(3); West/HOU(1); Wildcards/TBR(1); OAK(1); AL LCS/NYY; WS/LAD(12); NL MVP/Acuna; NL Cy Young/Scherzer; NL Batting/Bellinger; AL MVP/Trout; AL Cy Young/Cole; AL Batting/Altuve
David Sanders – (31) NL East/WAS; Central/CIN(1); West/LAD(3); Wildcards/CHI(1); ATL(1); NL LCS/LAD(6); AL East/NYY(1); Central/MIN(3); West/HOU(1); Wildcards/TBR(1); OAK(1); AL LCS/NYY; WS/LAD(12); NL MVP/Acuna; NL Cy Young/Scherzer; NL Batting/Betts; AL MVP/Trout; AL Cy Young/Cole; AL Batting/Trout
Hudson Stone – (18) NL East/PHI; Central/CIN(1); West/SDO(1); Wildcards/LAD(1); ATL(1); NL LCS/LAD(6); AL East/TBR(3); Central/CWS(1); West/HOU(1); Wildcards/NYY(3); LAA; AL LCS HOU; WS/HOU; NL MVP/Acuna; NL Cy Young/Nola; NL Batting/McNeil; AL MVP/Bregman AL Cy Young/Cole; AL Batting/Bregman
Madison Stone – (12) NL East/WAS; Central/PIT; West/LAD(3); Wildcards/NYM; COL; NL LCS/LAD(6); AL East/BOS; Central/KCR; West/TEX; Wildcards/HOU(3); BAL; AL LCS HOU; WS/HOU; NL MVP/Goldschmidt; NL Cy Young/Kershaw; NL Batting/Gordon; AL MVP/Trout; AL Cy Young/Carrasco; AL Batting/Altuve
Patrick Stone – (9) NL East/WAS; Central/STL(1); West/LAD(3); Wildcards/PHI; CHI(1); NL LCS/WAS; AL East/NYY(1); Central/CLE(1); West/HOU(1); Wildcards/BOS; OAK(1); AL LCS/HOU; WS/HOU; NL MVP/Goldschmidt; NL Cy Young/Scherzer; NL Batting/Freeman; AL MVP/Bregman; AL Cy Young/Cole; AL Batting/Altuve
Pat Stone – (14) NL East/ATL(3); Central/STL(1); West/ARI; Wildcards/COL; MIA(3); NL LCS/ATL; AL East/TOR(1); Central/MIN(3); West/TEX; Wildcards/HOU(3); KCR; AL LCS/TOR. WS/TOR; NL MVP/TULO; NL Cy Young/Kershaw; NL Batting/MOLINA; AL MVP/BAUTISTA; AL Cy Young/HERNANDEZ; AL Batting/ALTUVE
Rachel Stone  – (12) NL East/WAS; Central/CHI(3); West/LAD(3); Wildcards/COL; STL(3); NL LCS/CHI; AL East/NYY(1); Central/CLE(1); West/HOU(1); Wildcards/BOS; LAA; AL LCS/HOU. WS/HOU; NL MVP/Harper; NL Cy Young/Scherzer; NL Batting/Harper; AL MVP/Correa; AL Cy Young/Verlander; AL Batting/Springer
Walter Stone – (7) NL East/NYM; Central/CHI(1); West/ARI; Wildcards/LAD(1); ATL(1); NL LCS/NYM; AL East/NYY(1); Central/CLE(1); West/HOU(1); Wildcards/TBR(1); LAA; AL LCS HOU; WS/HOU; NL MVP/Harper; NL Cy Young/deGrom ; NL Batting/J. Turner; AL MVP/Altuve; AL Cy Young/Kluber AL Batting/Altuve
Marc Whyte  – (13) NL East/PHI; Central/CHI(3); West/LAD(3); Wildcards/MIL(3); COL; NL LCS/PHI; AL East/NYY(1); Central/CLE(1); West/HOU(1); Wildcards/BOS; OAK(1);  AL LCS HOU; WS/HOU; NL MVP/Harper; NL Cy Young/Scherzer NL Batting/Yelich; AL MVP/Trout; AL Cy Young/Cole; AL Batting/Altuve
Caleb Young  – (10) NL East/ATL(3); Central/CHI(3); West/SFO; Wildcards/PIT; PHI; NL LCS/CHI; AL East/BOS; AL West/Hou(1); AL Central/KCR; AL Wildcards/CLE(3); SEA; AL LCS HOU; WS/NYM; NL MVP/Harper; NL Cy Young/Harvey; NL Batting/Harper; AL MVP/Correa; AL Cy Young/Keuchel; AL Batting/TROUT
© JSR 2020