December 4, 2021
Trophies – new and old.   We all know Miles could play… https://www.youtube.com/watch?v=z9Yeq9svqO8.
November 23, 2021
I accept this award on behalf of…
I have delayed several days in posting the final result of this year's competition for the Rocky for three reasons.  First, I had a family emergency that required travel to Portland (all good, now, thanks).  Secondly, I had to complete last minute publication duties for my latest novel, A Potter's Vessel, the sequel to Born Blind (both available on Amazon. http://www.jacksonsriddle.com.) Thirdly, and actually the main reason for the delay, I just couldn't come up with a clever angle on how to report my own triumph.  I simply had a good year, and I was lucky.  So, rather than focus on my being the first ever repeat winner in our fourteen year history, I would rather review just how checkered that history has been.
Picking both World Series teams, and then the eventual champion, has only occurred twice before.  Gus Pompa did it in 2018, when he won with rollover picks from 2017!  Madison Stone did it in 2017, and he didn't even win the Rocky.  He lost out to his brother Hudson, who set the all-time points/% records with 56/.500, even without correctly picking the NLCS winner.  So, clearly, to win the Rocky, you have to have been successful in both your team and the individual selections. 
My one correct individual pick (T. Turner) was just enough to keep me ahead of Robert Carington, 44-41.  Robert also picked ATL to win the World Series, and correctly picked Shohei Ohtani to win the AL MVP.    He was doomed, however, by his belief that Ohtani would lead LAA to the AL pennant! (The "sublime and ridiculous" have been a hallmark of our picks over the fourteen years.)
Even when you score well in all categories, you have to do so in a year that others do not.  My winning point total this year would not have won in 6 of our 14 years.  And in four other years I wouldn't have even finished second.   So, as I have said many times on this page, and try to remember every day in life: "It's smarter to be lucky than it is lucky to be smart."
To Robert, now a 2-time runner-up, I wish a little more luck next year.  The same goes for Marc Whyte, who has three second-place finishes.  Chip Babcock is also twice a bridesmaid in just four years of competition.  (Nice work so far, Chip, but remember that my 85-year old mother-in-law won the Rocky in her first try – see adage above.)
Dan Nerdahl, Tony Liccione and Steve Jacobs all have won the Rocky and also finished second, so they deserve recognition.  Of course, Steve's 2nd place finish was to me in 2008, when there were only three of us competing – me, him and Rocky Walker, himself.  Therefore, my first victory and Steve's first 2nd place probably should carry an asterisk, although neither of us deserve to be associated with Roger Maris. 
Finally, Rocky would almost certainly have won a trophy if he had lived to compete in fourteen seasons.  Perhaps the greatest win for our Society to date is being able to name the trophy in his honor.  He is worthy of our on-going efforts, and so I accept this year's trophy on behalf of all B.A.B.E.S. members, but especially, Rocky.  If you still don't know his story, please read this: 
Remembering Rocky
You can also review all of the past winners and runners-up here:
James L. Walker Award – Hall of Champions
I hope you have a Happy Thanksgiving holiday, and enjoy counting your blessings of this and years past.  Try not to look too far into the future.  The MLB Collective Bargaining Agreement expires December 1….
November 3, 2021
HOU is OUT
ATL had better pitching – strike one.
ATL had better hitting – strike two.
ATL had better fielding (and defensive shifting!) – strike three.
ATL wins World Series – and rightfully so.
I am tempted to add a fourth strike for better managing, but I don't want to pile on poor Dusty. I do think he contributed to the Game 4 loss by pulling Zach Greinke after only four innings, but that is hardly enough to have lost the entire series. (AJ Hinch still holds that ball and chain for removing Greinke in favor of Will Harris in Game 7 in 2019.)
All my Astros' angst aside, I am happy for Brian Snitker, especially, and for all the other ATL players who are very worthy of the title and seemed understanding and appreciative of the amazing experience they all just shared.
This Braves team was simply better than HOU, and I don't think it was just for this series. Since I predicted back in March that ATL would win the World Series, this should not be surprising to me, or to Robert Carington and Dan Nerhdahl, who also picked ATL as the World Series champion.  However, as I said last week "this" Braves team was much different than the one that we predicted would win at all.
Who had Eddie Rosario winning the NLCS MVP? Who had Jorge Soler winning the World Series MVP? And each of them playing for the Atlanta Braves??  No one could have ever envisioned that, including Rosario and Soler.   We must give credit to ATL GM Alex Anthopoulos for just getting them on the roster, but I don't think even Alex would claim that he thought Eddie and Jorge were the keys to winning a world championship.
All of this, however, is the beauty of sport, and even of life.  You get up every morning and do your best, including taking some wild swings when all appears to be lost.  ATL just won the World Series after not having even had a winning record for the first 140 days of the season!  That is perseverance, and belief.  Ted Lasso teaches us another lesson in believing.
HOU has another perspective this morning.  Their redemption tour ended two wins short, if it ever was going to occur.  And now it is likely never to happen, at least not in the same context as the shame fell upon them – as a very talented athletic club who did not need to go beyond even the arguable bounds of espionage in order to win.  
Carlos Correa is likely gone, and perhaps so are Greinke, Yuli Gurriel and Martin Maldonaldo.  Justin Verlander is likely never coming back.  Pitching Coach Brent Strom announced that he is not returning.  Dusty Baker doesn't have a contract for next season.  So, their Astros legacy, and especially that of the Core Four – Altuve, Correa, Bregman and Gurriel – is set.
HOU will still have a very good team, and the AL West is not exactly getting any stronger, but this particular group is now unable to change their collective image and erase the stain on their 2017 title.  Too bad, but probably appropriate penance.  I think even Ted Lasso would agree.
More on the race for the 2021 Rocky next week.  Obviously, I am still in the lead, but I can see a couple of scenarios where I get nudged out at the finish line.  Very unlikely, but so was this ATL team's championship.  
October 25, 2021
Personal Statistics
The 117th World Series begins tonight.  I am counting it as my 55th, as the earliest one I can recall is the 1966 classic between BAL and LAD – black & white TV broadcasts of day baseball featuring two incredible teams.  BAL swept the series, pinning three losses on Koufax and Drysdale!  I remember it mostly because one of my favorite players from my favorite team, CIN, won the Series MVP award for BAL! 
Frank Robinson had been traded to the Orioles in the off-season for Milt Pappas, one of the worst deals ever.  It was a beginning lesson in life for me – some deals are better left undone.  Robinson is still the only player to win the MVP award in both leagues, and I had to wait ten more years before celebrating my first World Series championship with the Reds in 1975.   
We all know that sports are games of numbers and records.  Statistics allow us to put every game immediately into historical perspective, and over time to identify the most outstanding performers who will become legends.   Some numbers even become synonymous with specific players (other than just the digit or digits on the back of a uniform).  This is particularly true in baseball:  Babe Ruth (714); Hank Aaron (755); Roger Maris (61); Joe DiMaggio (56); Cal Ripken (2,632); Pete Rose (4,256).  
I was reminded of this last monumental figure on Sunday night. 
(Nolan Ryan Foundation Dinner, Dell Diamond, Round Rock, TX; October 24, 2021) 
Getting to meet Pete was special to me since I grew up a Reds fan and, of course, we share a last name (no relation).  I was thrilled to experience that first championship when CIN beat BOS in seven games in the historic 1975 Series.  I gloated the next year when the Reds swept the Yankees.  (How sweet that was!)  CIN is still the last NL team to win back-to-back Series. 
The Big Red Machine of the 1970's had many great players, but Pete Rose was the unquestioned leader, as he was for most of my time as a Reds fan.  Starting in about 1965, I listened to practically every game on the radio (Al Michaels and Joe Nuxhall are the first announcers I remember; then Marty Brennaman replaced Michaels when Al moved to SFO).  I heard Pete get most of those 4,256 hits.   I also saw many of them in person, including some at old Crosley Field.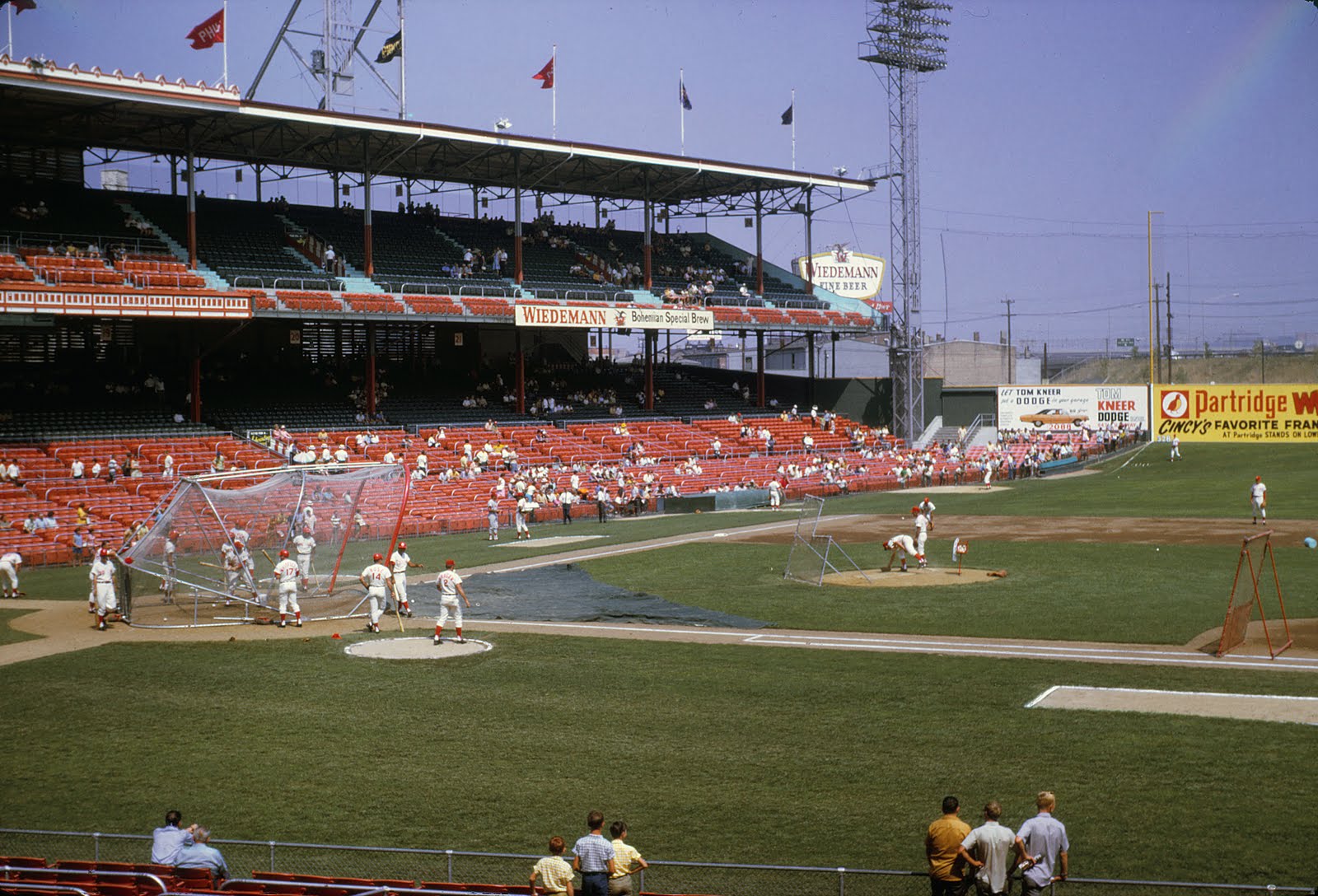 (Crosley Field, Cincinnati, OH, ca. 1968)
This was sometime before June 30, 1970, the day the Reds' new Riverfront Stadium opened.  Crosley was a classic park, shaped by the contours of downtown Cincinnati that caused irregular dimensions and odd features, including the elevation in left field as the player approached the wall (see the upper right corner of the photo  – that could be Pete!).  That quirky feature would be copied over thirty years later when "Tal's Hill" was incorporated into the new downtown stadium of my new favorite team, the Houston Astros.  Tal Smith, the Astros' General Manager at the time, obviously remembered Crosley Field as fondly as I do.  I still remember watching Pete try to catch balls in left field on that hill.  It was more interesting than watching Carl Yastrzemski just play the carom off the Green Monster at Fenway Park.  Tal's Hill brought a few memorable catches, as well.  https://www.youtube.com/watch?v=fmXJrnaz9ik.  (Lance Berkman was an under-rated defender.  He started in the All-Star game at three different positions.)
Although I did not see the game, Pete got the first of his 4,256 hits – a triple – on April 13, 1963, against the Pirates at Crosley.  Of course, the box score exists to allow us to relive it.  https://www.baseball-reference.com/boxes/CIN/CIN196304130.shtml.  (A long forgotten statistic: Pete went 0-11 to start his career!)
Crosley was also the site of the very first MLB night game, May 24, 1935.  President Franklin Roosevelt flipped the switch from the White House to turn on the lights.
(photo credit: Cincinnati Enquirer). https://www.cincinnati.com/story/sports/mlb/reds/2020/05/22/mlb-first-night-baseball-game-crosley-field-1935-reds-phillies/5195230002/.
Crosley Field is not one of the now 22 parks I have visited with my son, Jack, and have chronicled here.  It is, however, one of the 27 parks in which I have seen a MLB game, two of which showcased Pete Rose, and all of which form important statistics in my mind.  Pete is now over 80, and I am over 60, and we shared a quick reminiscence Sunday night about how much we both enjoyed Crosley Field, and how much we still love this game.
Pete has not lost any of his charisma or confidence.  He was asked what he thought he would hit if he played today – statistics still matter, obviously.  Pete calmly responded "Oh, .240 or .250."  The questioner was surprised, and asked why so low?
"Well, I'm 80 years old!" Pete proclaimed.
As another World Series begins tonight, again featuring my favorite team, I am looking forward to new statistics that will be etched in baseball history.  Perhaps the first four HR game courtesy of the Crawford Boxes at Minute Maid or the Chop House at Truist Park?  Wouldn't it be fitting if that record were set by Jose Altuve, the 21st Century's Eddie Gaedel? 
(photo credit: Society for American Baseball Research – SABR).
Or perhaps by Yordan Alavarez?  The Astros trading Josh Fields for Yordan may go down in MLB history as a bigger steal than Robinson for Pappas!  Or even by  Eddie Rosario, who likely won't hit 4 HR's in a game but may bat 1.000 for the Series with 24 consecutive hits.  Or he may go 0-24, and Altuve and Alvarez might neither hit a HR.  You just never know until you play the games.
Crosley Field is gone.  https://www.youtube.com/watch?v=oXKyOa4DKmE.  Even Tal's Hill is gone.  But the games go on, at least until the Collective Bargaining Agreement expires on December 1.  (That's a whole other story, and a complete other post, both of which are coming).  For now, we should enjoy this Series while we can – another life lesson.
October 23, 2021
Being Right for the Wrong Reasons
Here are excerpts of what I wrote on March 31, 2021, when I posted my picks:
NL East – ATL – I am not buying the NYM hype. ATL was one win away from the World Series last year, and they added Uncle Charlie Morton to an already impressive pitching staff (and they get Mike Soroka back from the IL). Oh, and did I mention Acuna, Freeman (MVP), Ozuna and Albies?  This is a very good team, in my opinion. (See below, for how good).
NL Pennant –  ATL – Yes, that's how good I think they are.  

AL West – HOU –  Another interesting division, in an unflattering way.   Are the Astros still Satan's team?   (See below for one answer.)

AL Pennant – HOU – I just have a feeling that this team has another long run in its bag (or trash can), even without George Springer.  Satan's team? Or redeemed sinners?  Either way, I see Justin Verlander coming back in August and leading his teammates to a pennant just like he did in 2017.
So, I chose wisely in picking each pennant winner, just not for the reasons I predicted. 
Of the names I mentioned for the Braves, Siroka, Acuna and Ozuna would miss most of the season with injuries.  Eddie Rosario, who just won the NLCS MVP for the Braves, was also on the IL for an extended period, as a member of the CLE Indians! 
For the Astros, we still have not seen the return of Justin Verlander (he may never pitch for the Astros again), and I did not even consider the contributions of Luis Garcia, Chas McCormick, Jake Meyers or Jason Castro (!) in making my prediction.
Nevertheless, both HOU and ATL are going to the World Series just as I predicted. One of my favorite sayings – and something of a B.A.B.E.S. mantra – rings true yet again: "It is smarter to be lucky than it is lucky to be smart."
Updated standings in the race for the Rocky are posted below.   (Preview: I am in the lead….) 
Major League Baseball – 2021
October 16, 2021
NLCS 2021 – ATL over MLB!
I know ATL's actual opponent is LAD, but I can't help but point out that the city of Atlanta has already won its rematch with MLB Commissioner Rob Manfred.  You may have forgotten that in April Manfred yanked the All-Star Game from the city in protest over the Georgia legislature's new voting rights law.  I said at the time, although I did not post anything about it, that this was an example of corporate hypocrisy, since the league obviously has a team in the state and plays games there practically every day – perhaps even hosting the World Series again in October.  I did, in fact, raise this prospect in my predictions back in March:
World Series –  ATL – The team (with Ron Washington as its 3rd base coach), is championship good, and should make for fascinating post-season viewing – with perhaps even some political hysterics. The tomahawk chop?  Can the game be forfeited if the fans refuse to refrain from this cultural appropriation?  Even more interesting, however, is whether there could be a player and league boycott of the entire state of GA for its new voting rights law? We will get a preview with how they handle the All-Star game set for Truist Field in July. https://www.fox5atlanta.com/news/mlb-all-star-game-truist-park-boycott-georgia.
Of course, the real showdown could come in October with the World Series, if my ATL pick is correct.  Another alternate site championship series at TEX?  Oh, wait, TX has its own pending voting rights law, and what if HOU is the AL representative? (you can scroll to the bottom to read the entire post from March 31)
We are now tantalizingly close to this seeming political nightmare for Mr. Manfred.  Yet, he has spoken not a word publicly about the issue(s) as we prepare for today's opener in the NLCS.  I also did not see him during Fox's coverage of the game in HOU last night, although I mostly listened on the At Bat App to escape the mind-numbing analysis of John Smoltz. (Can Adam Wainwright just go-ahead and retire now so that he can replace Smoltz in the booth next season, please? https://www.essentiallysports.com/us-sports-news-baseball-news-mlb-news-fans-stunned-by-adam-wainwrights-color-commentary-skills-for-the-chicago-white-sox-vs-houston-astros-alds-series/.)  But, first, back to Rob Manfred.
Where is he?  Why was Georgia's legislature so evil in April, but apparently irrelevant in October?  And why is Texas not twice as evil since it has now passed its own voting rights bill as well as an unprecedented (and likely, unconstitutional) private-right-of-action abortion law?  Are these issues no longer important to MLB?  Or is it just that Manfred's Men (the MLB owners) can only carry their protest so far before it threatens their own revenue?  It is fine to damage ATL's small businesses by pulling the All-Star Game, but we can't move the NLCS!  Where could we take it that would match our politics and still sell as many tickets as we will at The Battery?
There is a new book out about corporations using political issues to further their market dominance. https://www.amazon.com/Woke-Inc-Corporate-Americas-Justice/dp/1546090789/?tag=lawliberty-20.  I have not read it yet, but after reading this review and commentary, I intend to.  https://lawliberty.org/book-review/the-distorted-market-for-woke-capitalism/. 
I consider myself a political independent.  There is no party that adequately reflects my views on the complex issues of our society.  I am happy to discuss these issues one by one, in depth, without the pre-conceptions formed by identifying my perspective as Blue or Red or Green.   I am a capitalist at heart, but I oppose using capitalist power to further political causes, particularly when the real motive is simply to increase market dominance.  MLB's actions in April and inaction in October confirm that its owners are doing exactly that. (Oh, wait! MLB already has a market monopoly with its anti-trust exemption.  Is that what they are really worried about?)
As I also wrote in March, and which still stands as my sporting view and NLCS prediction in October:  Can't we just play the games? Somewhere?  Wherever that is, ATL wins.
(SunTrust, n/k/a Truist, Park at The Battery, ATL – July 18, 2019)
October 15, 2021
ALCS – 2021:  Redemption for Me or Thee?
Everyone who reads this page knows of my theological bent.  I am wired to view life's events through the filter of the depravity of man.  Rather than make me cynical, however, this has caused me to understand and appreciate grace.  We are all sinners in need of redemption, and some actually seek it.  In the  context of this year's ALCS, both teams are desperately pursuing it, but only one team is going to achieve any measure of it.
Everyone knows of and focuses on HOU's sins.  There is a lasting stain on its 2017 World Series championship.  BOS, however, is directly tied to this transgression in not one, but two ways.  First, their manager, Alex Cora, was the Astros's bench coach in 2017, and he got the same year-long suspension as did Astros's manager A.J. Hinch.  Secondly, he was manager of BOS for its 2018 World Series championship.  Are we to assume blindly that this was a transgression-free triumph?  See above philosophy for my emphatic rejection of this notion.
On top of the questionable tactics, BOS was a major disappointment the past two seasons.  They failed even as HOU pulled itself out of its shame and returned to the ALCS year after year (this is a AL record-tying 5th consecutive appearance).  Now, both have returned, and both want to complete the journey back to respectability. 
It is likely that only another World Series triumph – under intense public scrutiny – will provide that redemption.  And you can't win a World Series without winning your LCS first.
So, which team will climb over this hurdle?  Will they do so without any continuing taint? Or without accusations of continuing transgressions?  CWS learned that even suggesting such a thing can backfire.  https://www.youtube.com/watch?v=UQ_7OumBUKc.   I doubt that BOS will make such a mistake.  They know the old baseball axiom – "let him who is without sin cast the first stone."
Chris Sale was just announced as the surprise Game 1 starter for BOS. He will be seeking redemption of the old-fashioned kind – "Please, Lord, just let me be the pitcher I used to be."
(Fenway Park, May 2, 2017).  I took this photo a few minutes before Chris sailed a pitch behind Manny Machado.  https://www.youtube.com/watch?v=JwKmiySPmCk. 
FYI, "hamartia" is the Greek word meaning "missing the mark".  It is the word used in the New Testament to describe "sin".  🙂
October 3, 2021
Deja Vu All Over Again?  Not this year….
At 3:05 EDT today all thirty MLB teams were in action for the last time in 2021.  Six of them had something material to play for.  Four were trying desperately either to earn (TOR and SEA) or not blow (BOS and NYY) a spot in the post-season.  The two teams with the best record in MLB, which happen to both play in the NL West (SFO and LAD), were trying to avoid having to play in the one-game WC elimination game. 
This created 21 different tie-breaker scenarios and promised to make the viewing a multi-tasking delight.  Thanks to MLB's decision in 2015 to start all game 162's at the same time, it seemed even more likely that there would be overlapping drama.  Personally, I was hoping for a repeat of the best closing day in MLB history – perhaps the best single day in MLB history – which occurred ten years ago in 2011.  If you don't remember it, a series of amazing plays resulted in some shocking changes in the post-season qualifiers.  The thrill of victory and agony of defeat were packed into about a 60 minute window all across the league.  Here is a link to my breathless reporting the next day, September 29, 2011. https://babesbaseball.wordpress.com/2011/09/29/i-dont-believe-what-i-just-saw/.
I was hoping for a repeat in 2021, and for about two-and-a-half hours this afternoon it looked like we just must might have one.  First, the mighty (and shocking) SFO, took care of business quickly to assure win 107 and relegate LAD to the WC game, even though it ran its win total to 106!  An epic addition to many epic stretch runs for both of these teams.  More drama to come between them, for sure, even though it did not happen today.
The other teams, however, seemed ready to create some drama.  In the AL, BOS was behind by 3 runs and NYY had only 1 hit through 8 innings.  TOR had a dozen runs in five innings and SEA had cut a four-run deficit down to two.  A four-way tie was looking possible, and a three-way tie probable.  And then, suddenly, it was over.  NYY got a walk-off single in the 9th from Aaron Judge, and BOS scored 3 in the 7th and 2 in the 9th to erase a 3-run deficit.  And that was it. The tie-breaker went 0-21!  
However, we do have two dynamite WC games to look forward to – NYY@ BOS and STL@LAD.  These four teams are the collective holders of 54 World Series titles, and they are all playing a sudden-death play-in game!  I can't complain about that. 
They and the other post-season teams present some intriguing story-lines.  Will one of them survive the Game 7 start and actually add to their WS haul?  Can LAD be the first repeat champion in 20 years (even harder now without Kershaw or Muncy!) Or will TBR or MIL get their first banner to hang?  Will the Astros continue to be the most hated team in MLB by winning another championship?  Will SFO complete one of the most amazing and fastest rebuilds in history?  A BOS victory would be almost as shocking given their expectations pre-season.
These questions should make for an epic October, even if it did not start out as exciting as it promised.  No deja vu this time, but Yogi would still be interested, I think.  Frankly, I have to admit that every post-season is a little more interesting with games being played in the Bronx and I can continue to hate on the Yankees.
(Yankee Stadium – the Bronx, October 2, 2021)
Our B.A.B.E.S. standings so far are linked below.  Kudos to Matt Bardwell for getting off to a fast start with picking Trea Turner as the batting champ.  His SFO pick in the NL West is also impressive, but tempered somewhat by his BAL pick in the AL East.  Sublime and ridiculous? Or is it just that he likes orange and black?  They are the classic fall color.  
Will we see SFO's in the Fall Classic again?  No one made that call, but there many more points to award.  Most of the members are still in the running for the 2021 Rocky.  Please check my math on your totals so far at this link.
Major League Baseball – 2021
.
August 12, 2021
MLB Comes to Iowa!
https://www.mlb.com/news/featured/field-of-dreams-keeps-reality-on-deck.
(photos: Keith Reichard, ballparkdigest.com)
But Jack and I were there first.
(Dyersville, IA, August 20, 2015)
Some truths are eternal, and perhaps most likely to be found in the heartland:
This game, this field, this story, has meant much to me.  https://jacksonsriddle.com/blog/.
July 11, 2021
20 and 21 in 2021 – On the Ballpark Road Again
Signs of recovery from the pandemic are everywhere.  Most U.S. states and cities have greatly relaxed, if not completely eliminated, restrictions on business operations and public gatherings.  Life is finally (and surprisingly quickly), returning to normal.  For us B.A.B.E.S. members, this happily includes going to MLB games with the stands full of fans and no masks required.  This is especially good news for me, personally, as Jack and I have been able to resume our quest to visit every MLB park. 
(Nationals Park, Washington, D.C. – July 3, 2021)
Last weekend we combined a 4th of July trip to the Nation's Capital with visits to our 20th and 21st MLB ballparks – Nationals Park in D.C., and Oriole Park at Camden Yards in Baltimore.  Baseball and 4th of July fireworks – what could be more normal for a father and son in America?  
(National Mall – July 4, 2021 – you can just make out the Lincoln Memorial through the fireworks to the left of the base of the Washington Monument.  The skyline of Arlington, VA, across the Potomac River, is visible to the right of the monument.)
Together the ballparks in Baltimore and D.C. represent the bookends of the "retro era", the first opening in 1992 and the other in 2008.  Jack and I liked both parks, and I would put them in the Top 10 of my personal rankings.  You may recall my 2019 pre-pandemic review of Paul Goldberger's book Ballpark: Baseball in the American City.  Here is an excerpt from the book and my commentary on it:
"The baseball park is a metaphor for the joining together of rural and urban. It can be thought of as a place where the field represents the Jeffersonian ideal of the rural landscape stretching out indefinitely while the structure of the grandstands and the clubhouses that surrounds and encloses it represents the Hamiltonian vision of American industry and urban vitality….The infield is the urban world of straight lines, rigid dimensions and frequent action; the outfield is the rural world of open, easy, sprawling land, quiet but for the occasional moment of activity.  For the game to succeed, the two worlds have to work in harmony.  In the ballpark, the urban and the rural worlds become one.  
He had me at 'metaphor.'  Here is a guy who not only understands that 'baseball is life,' but that 'the ballpark is civilization,' or at least American civilization." https://babesbaseball.wordpress.com/2019/08/.
Perhaps Goldberger and I both went a little overboard, but any B.A.B.E.S. member should get the idea.  If you still have not read Goldberger's excellent book, Wikipedia has a nice history of Oriole Park and the retro ballpark building boom it inspired, complete with links to each of the pages for the progeny ballparks. https://en.m.wikipedia.org/wiki/Oriole_Park_at_Camden_Yards.
(Oriole Park at Camden Yards – July 6, 2021)
Oriole Park started the Ballpark Renaissance in 1992, and certainly has held its position as the standard in "old-time" parks.  The downtown urban setting, exposed iron super-structure, close-to-the-field seating, asymmetrical dimensions, and an iconic outfield backdrop (B&O Warehouse in right field) make it the perfect example of what a "traditional" ballpark should look like.   Oriole Park is now in its 30th season, but it is in great shape (much better than the team, although they managed to beat TOR the night we were there).  The look of the architecture and the feel of walking into the park from downtown's Eutaw Street in the shadow of the B&O Warehouse still represent a perfect connection to baseball's past. 
Nationals Park simulates all of these traits, save only the iconic backdrop of a historic building or "neighborhood".  The view from home plate is nice, but not one that immediately identifies which park you are in. The park itself is very nice, though, with many public spaces affording a panoramic view of the field from all levels.  
More importantly, perhaps, Nationals Park has sparked an impressive development boom in the old Navy Yards. Anyone who denies that a new urban ballpark actually ignites commercial development should visit 1500 South Capitol Street in Washington.  Although there are no immediately identifiable structures or even many old ones, the vibrant residential and commercial development around Nationals Park is perhaps the best picture that baseball can frame for an abandoned urban neighborhood.  
Pros and cons of ballpark development aside, it was just great to be in a crowded ballpark again, even during a long rain delay.  
The fact that we could also be on a crowded National Mall for July 4th fireworks further proves that life is returning to normal.  Happily, we can once again talk about the actual games rather just the environment in which they are taking place.
(The Mall got much more crowded as the fireworks drew near, beginning at 9:09 p.m.  I liked the odd starting time, like for the first pitch in a baseball game.)
You can check out where you stand in the 2021 race for The Rocky by consulting the standings as we head to the Mid-Summer Classic in Denver.  https://www.mlb.com/standings.
The first half of the 2021 MLB season has provided much fireworks and many surprises so far.  HR's and HBP's are up.  https://www.youtube.com/watch?v=u9iAKWtqZ8Q.  So are no-hitters. https://www.cbssports.com/mlb/news/mlb-no-hitter-tracker-cubs-throw-seventh-no-no-as-2021-ties-single-season-record/.
SFO and BOS are surprising team successes, with both Alex Cora and Gabe Kapler leading their squads ahead of tough division rivals that were supposed to crush them.  NYY is one of those "supposed to" teams, and they are not crushing anyone or anything.  The question around the Bronx has become whether Boone or Cashman will be fired first rather than whether the Yankees can catch BOS.  This was likely intensified by the Astros 6-run rally today in the bottom of the 9th!   
In the NL West, LAD and SDO are doing well but still find themselves behind the resurgent Giants. Will three teams from the Division make the post-season?  There are a few other good news/bad news stories so far:  HOU good/LAA bad; MIL good/STL & CHI bad; CWS good/MIN very bad.  Everyone in the NL East bad, but ATL is the real disappointment, having spent almost the entire season below .500 and now faced with playing the rest of the season without their injured star Ronald Acuna who tore his ACL last night.   Injuries across the league have also been a major story line. https://www.usatoday.com/story/sports/mlb/2021/06/03/mlb-injuries-2021-baseball-season-increase/7510128002/.
We just passed the half-way mark in the season, so there is time for recovery, but none of these teams performing badly appears ready to make a run into the post-season.  Even some of the excelling teams have big questions, including defending champion LAD.  Can the Dodgers survive all the injuries to its stars – Seager, Bellinger, Kershaw – not to mention Trevor Bauer's injurious – and possibly felonious – conduct?  (Talk about being very bad….)    https://www.si.com/mlb/2021/07/08/trevor-bauer-leave-extended-police-mlb-investigate-sexual-assault-allegations.
Obviously, the competition for the Rocky will be impacted greatly by the second half performances following the Mid-Summer Classic in Denver.  Can NYY and ATL turn it around.  Can SFO, HOU and CWS keep it up?  Most of members have either LAD and/or HOU in the World Series, so there is a chance for many points there.  Also, several picked Jacob de Grom to win another Cy Young award and Shohei Ohtani for his first MVP.  Those picks look strong so far.  Ohtani may be the first player legitimately to refute my assertion that pitchers should not win the MVP award.  Of course, he is not just a pitcher.
He undeniably brings to mind another player who was not just a pitcher…
All in all, there should be much to cheer about in the second half of the season, including the simple ability to cheer in person.  I hope you will get to do it at the ballpark or ballparks of your choice.   Jack and I plan to visit a couple more before the 2021 Fall Classic arrives.  Since he is now in school in NYC, ballparks #23 and #24 may be Yankee Stadium and Citi Field.   More to come – live and in person, mask free.  
May 1, 2021
A full-season of play, with fans, is a blessing, right?
The season is now one month old, and things are not going exactly the way anyone planned.  However, the beauty of a full-season of MLB means that short sample-sizes do not tell the whole tale.  So, there will be no direct performance commentary yet, except to say that A.J. Hinch is probably jealous and angry that Alex Cora got to return to BOS (17-11) while he got exiled to DET (8-20).  The Tigers' record includes a 3-game sweep of HOU in Houston!  Perhaps the players threw those games as means of apologizing to A.J. for getting him fired in Houston and then hired in Detroit.
Irrespective of the quality of your team's start, you are likely enjoying being at the ballpark, or at least liking seeing other fans in the stands on TV and hearing them on the radio.  Of course, with that pleasure returns the pain of realization that baseball requires patience to endure inevitable player slumps and teams losing streaks (even LAD is 2-8 in its last 10 games).  But that is part of being a fan, and we must re-learn the lesson every year.
On that topic,  Hudson Stone, long-time B.A.B.E.S. member and 2017 winner of the James L. Walker Award, sent along the pithy observations below concerning the various MLB fanbases.   Do you recognize yourself in Hudson's description?  Anyone want to take exception?
One sentence to describe each MLB fanbase:
NL East
NY Mets:            For the ninth strikeout season in a row – this is our year!
PH Phillies:         I'm glad we overpaid Bryce Harper so that we can hover around .500 all year.
MI Marlins:        We're a playoff team this year because we were a playoff team last year, right?
ATL Braves:        Wait, Freddie's first name is Frederick?
WAS Nats:          We're (11-12) and Strasburg is on the IL but we got 'em right where we want 'em, boys.
NL Central
CIN Reds:           We picked a fight with Molina and nobody died – so we're basically champs, right?
MIL Brews:         We literally broke Yelich's back from asking him to carry the team.
STL Cards:          If Matt Carpenter's BA were his test results in an advanced physics class, he'd actually be doing all right guys!
PIT Pirates:         Not in last place ya'll! (See next entry for the holder of that position)
CHI Cubs:           (Cubs fan at an AA meeting): I was doing pretty good until the season started.
NL West
LA Dodgers:       "On this evening's news – Here the story of how one local Dodgers fan left his house two weeks ago to attend a Dodgers game and he's still sitting in traffic"
SF Giants:           Good start boys! It's too bad we're not allowed to win the WS in odd numbered years.
SD Padres:          We're contenders! *checks Dodgers score* Oh, nevermind.
ARI D-backs:      (D-Back's fan at a Gamblers Anonymous meeting): I was doing pretty good until they legalized betting at the stadium.
COL Rockies:      Based on our on-field performance, it looks like I'm not the only one enjoying some recreational drugs.  (maybe more than recreational)
AL East
BOS Red Sox:     No seriously guys, Alex Cora is just a REALLY good manager. He probably just spent all of 2020 studying advanced cheating tactics analytics.   
TB Rays:             *TB Rays fan graduates from college with a basket-weaving degree* Oh cool, I now have a higher annual salary than our entire teams payroll.
TOR Blue Jays:   Wait, didn't this happen to Montreal a few years ago? This feels like déjà vu…
BAL Orioles:       Not in last place ya'll!
NY Yankees:       George! Just come away from that heavenly handrail! Everything's going to be all right!
AL Central
KC Royals:          16-9, just like we planned it!
CLE Indians:       No, I actually think it's perfectly reasonable to ask Bieber to pitch 8 days a week.
CHI White Sox:  Guys, we're not the worst team in Chicago!
MIN Twins:        I mean, who even cares right? We'll just get swept in October anyways.
DET Tigers:         We didn't hire you to be honest AJ! We want whatever Cora's doing in Boston!
AL West
SEA Mariners:    I'm a huge Mariners fan!… Wait, Griffey retired? And he's already in the Hall of Fame?
LA Angels:          Guys, we're the best team in Los Angeles Anaheim!
OAK A's:             So apparently it DOESN'T help our team play better when we "Boo" the opponent.
HOU Astros:       It's not so bad guys, the bus drivers got confused and accidentally dropped the Triple-A team off at the stadium. And once the Triple-A guys learn our trash cans system, we should start winning again. And who cares if this is multiple sentences, cause we're the Asterisk's  Astro's and will cheat if we want to.
TEX Rangers:      You think the Cowboys will find a way to lose more games this year than the Rangers?
April 18, 2021
MLB BINGO
It's early, of course, but I am wondering whether anyone had "Aaron Boone" as the first MLB manager to be fired in 2021?  Oh, right, I forgot to tell you to make that pick as part of the competition.  And, of course, the Bronx burns less easily since the Boss died.  Nevertheless, it should still be interesting to watch for smoke.  I predicted last year that Brian Cashman would be fired as GM if NYY didn't win the AL pennant.  Perhaps I was just a year early in my projections.  Could we even see a clean sweeping of the House of Steinbrenner?  Hold onto your cards.
The 2021 picks you did make are up on the MLB 2021 page linked below. Please check that I have recorded yours accurately, and make sure you can prove otherwise if you want revisions. (And Chip, you know you didn't pick your beloved Red Sox to win the AL East. O, ye of little faith.)   And all you NYY faithful, repeat after me – "You're fired!"    
https://babesbaseball.wordpress.com/major-league-baseball-2021/
March 31, 2021
"What I have written, I have written."*
My 2021 picks, for your review and comment:
NL East – ATL – I am not buying the NYM hype. ATL was one win away from the World Series last year, and they added Uncle Charlie Morton to an already impressive pitching staff (and they get Mike Soroka back from the IL). Oh, and did I mention Acuna, Freeman (MVP), Ozuna and Albies?  This is a very good team, in my opinion. (See below, for how good).
NL Central – STL – Somehow the NL Central became the division of misfit toys, but I like the cast-off pieces named Arenado and Goldschmidt that are on either side of the infield for the Cardinals.  85 wins could win this division, and I see STL as the most likely team to get there.
NL West – LAD – So they won a title in 2020 and saved Dave Roberts' job, just as I predicted they would.  Can they be the first repeat World Series champion in 20 years? Yes. Will they? (See below).
NL WC – SDO – I am tempted NOT to buy the hype on this team, either, but they do have a short season of success under their belt, and they did add some tantalizing and accomplished arms to the rotation. So, I will give them the WC spot and dare them to knock off LAD.
NL WC –  WAS – I am so tempted to pick MIA here, a team that performed very well in the COVID season and is clearly a franchise on the rise (well done, Captain Jeter and Field General Mattingly).  But, I just can't take them over the Nationals, who still have one of the best teams in baseball even after losing Harper and Rendon the past couple of years.
NL Pennant –  ATL – Yes, that's how good I think they are.  They promise to be even more controversial than good.  (See below.)
AL East – NYY – Last year I predicted correctly that TBR would slay Goliath, but that was in a short-season fight. I know that a longer season inevitably means more injuries for the Yankees, but I still see them as the best team in the long haul.  Also, I am not buying the TOR/FL hype, yet. (FYI, TOR is starting the season with its home games in Dunedin, FL, due to Canada's continuing COVID restrictions.)
AL Central – MIN –  Still the best team, over the long haul, in a rapidly improving division.  I am not buying the CWS hype, and am actually looking forward to watching ancient Tony LaRussa melt down over the attitude of young players.  Also, keep an eye on KCR – royal blue may come back into post-season fashion sooner than you think.  (Anyone else happy that powder blue unis have already returned, not only in Kansas City, but in TOR, TEX, TBR, MIN, PHI and STL?) (More importantly, can anyone explain how MIN has lost 18 consecutive post-season games? What are those odds?)
AL West – HOU –  Another interesting division, in an unflattering way.   Are the Astros still Satan's team?  Is OAK ever going to be as good as TBR at their own game of Moneyball?  Will Mike Trout ever win a post-season game – or get more hits than strike outs (1-12 lifetime, with 2 s/o's).  Will TEX ever get back to the level of Ron Washington's back-to-back pennant winners, now 10 years in the past, or will his wisdom continue to be proven sage? "That's just the way baseball go."   (See below for one answer.)
AL WC – TBR – The best run MLB franchise, the best radio announcers (I love to listen to Dave Wills and Andy Freed on MLB-At Bat), and the players are the best over-achievers in any sport (Randy Arozarena!).  I just can't leave them out of my picks despite them letting Morton go to ATL and trading Blake Snell to SDO.  Somehow, they will find a way to win enough games to return to the post-season.
AL WC – OAK – I really struggled with this last pick.  TOR? I already picked two teams from their division.  CWS? I already dissed them, and Eloy Jimenez is out for months with an an ugly injury.  OAK? Same story, but I also like listening to radio announcers Ken Korach and Vince Cotroneo, with special appearances by Ray Fosse – one of MLB's tragic figures: https://www.youtube.com/watch?v=FtkU3apSMHw.  Ray retired from the booth at the end of 2020.  So, in his honor, I am picking OAK.
AL Pennant – HOU – I just have a feeling that this team has another long run in its bag (or trash can), even without George Springer.  Satan's team? Or redeemed sinners?  Either way, I see Justin Verlander coming back in August and leading his teammates to a pennant just like he did in 2017.
World Series –  ATL – The team (with Ron Washington as its 3rd base coach), is championship good, and should make for fascinating post-season viewing – with perhaps even some political hysterics. The tomahawk chop?  Can the game be forfeited if the fans refuse to refrain from this cultural appropriation?  Even more interesting, however, is whether there could be a player and league boycott of the entire state of GA for its new voting rights law? We will get a preview with how they handle the All-Star game set for Truist Field in July. https://www.fox5atlanta.com/news/mlb-all-star-game-truist-park-boycott-georgia.
Of course, the real showdown could come in October with the World Series, if my ATL pick is correct.  Another alternate site championship series in TEX?  Oh, wait, TX has its own pending voting rights law, and what if HOU is the AL representative?  
Can't we just play the games? Somewhere?  Wherever that is, ATL wins.
NL Batting Title – Trea Turner – I picked Justin last year. I am switching coasts this year, and first names, for the win.
NL Cy Young – Jacob deGrom – I said I was not buying the hype about NYM, but there is nothing hyped about this pitcher. He is one of the best of his generation and could become a Hall-of Famer.  A third Cy Young Award would certainly build his case.
NL MVP –  Juan Soto – He should have won it last year – as I predicted – but was cheated by a false COVID test and those who voted for Father Time Freeman.  Neither stops him this year.  He could win the Triple Crown, as well as MVP.
AL Batting Title – DJ LaMahieu/Tim Anderson;  Anderson/LaMahieu – eeny, meeny, miny, Mo.  I picked Anderson last year, so I am going with LaMo this year.

AL Cy Young – Gerrit Cole – Once again he will do his part, but the rest of the Yankees will not, and Cole can't break the 12-year World Series drought on his own.
AL MVP –  Carlos Correa – Like a good villain, he has proven the ability to back up his swagger – even after a cheating scandal. He just turned down a $120 million contract extension offer as insulting, although he said he understands the business of baseball.  I say that he stays healthy in his walk year, wins the MVP and more than doubles his money in the off-season free agency market. He'll want to triple it, but there are too many SS's on the market next year, and not enough big-spenders (assuming there are any spenders, at all.)  Maybe that is his penance?
Much more later about baseball and morality in connection with the coming work stoppage, but for now, Play Ball! 
(*quoting Pontius Pilate at the start of a baseball prediction post may seem odd, at best, and blasphemous, at worst.  However, the quote expresses my resolve, and it also gives me an excuse to wish you a blessed Holy Week and Passover.  Further, I get to point out that one of the most maligned men in history made up for his action in the best way he knew how.  (John 19:17-22).  To paraphrase Ron Washington: "that's the way life go.")
March 25, 2021
Left Coast Dominance? Or, the Best Laid Plans….
So, how does your NCAA bracket look today?  Not so good, I'm guessing.   
The Sweet 16 consists of four teams from the unheralded Pac-12, with the conference posting a collective 9-1 record so far, and yet none of these teams is the best one from the West Coast.  That title, for now, belongs to Gonzaga, but can it really go undefeated in any year, let alone this COVID-crazy one?  There are as many 15 seeds remaining as 3 seeds (1), and as many 11 seeds as 2 seeds (2).  If Gonzaga does not win the title – and perhaps even if it does – 2021 will go down as a year of upstarts and upsets, with the balance of sporting power having decidedly shifted to the West.
That geographical analysis is certainly applicable to MLB, and even to the NBA.  LAD and LAL are their respective league's reigning champions, and LAD, at least, looks like the best MLB team again in 2021, and most experts say its neighbor SDO is the second best team.   LAL had that title in the NBA until about a month ago when Anthony Davis went down with an Achilles injury, followed by LeBron James suffering the infamous high-ankle sprain.  Suddenly, the Lakers are looking like a possible first-round loser in the play-offs (current standings would have them playing Denver in the 4/5 match-up).  Injuries, as they say, are a part of the game, and can greatly alter the outcome of any competition.
That is certainly true in MLB, where some injuries have already occurred in Spring Training that could impact the season.  I am guessing that the names Tatis, Springer, Jimenez, Carrasco, Realmuto and Valdez sound familiar to you, and that most of them are expected to play a role in your selections for this year.  ("Valdez" is Framber Valdez for the Astros.  If you don't know his name already, you will as soon as he recovers from a broken pinkie on his leftie pitching hand.)  Other players are coming back from injuries and how they fare could likewise make a difference in the season's results – Bellinger, Strasburg, Verlander, Syndergaard and Soroka, among many others.  (I would mention Chris Sale, but are any of you going to pick BOS even if he were to pitch the entire season?  C. Babcock, I am looking at you….)  In case the rest of you have not kept up, here is a link to the current MLB injury report, for your viewing pleasure, or pain.   https://www.mlb.com/injury-report. 
Of course, over a 162 game season there will be many additional injuries that will impact the results, so even the best-laid (and informed) plans – geographical or otherwise – may go awry quickly.  Good luck guessing where those will occur and what the effects will be.  Of course, you can just avoid the headache or waste of time by simply winging your B.A.B.E.S.'s picks.  That approach has been quite effective in the past!
Major League Baseball – 2018
https://babesbaseball.wordpress.com/2014/11/.
Whatever process of discernment you decide to employ, be sure to email your picks to babesbaseball@gmail.com by Noon, April 1.
March 18, 2021
How "March Madness" Can Make us Sane
The NCAA men's basketball tournament starts today.  The fact that it is being held at all, and follows a generally successful regular season (even with some fans in attendance), is an encouraging sign that we are slowly getting back to normal.  The process should help us continue to regain our collective sanity.
Even so, the NCAA is being cautious in holding the entire tournament in Indianapolis, and the fact that several teams are under COVID quarantine as play begins reminds us that events are still tenuous.  However, I am struck by the similar approach the NCAA has taken to MLB's 2020 season – completing a traveling regular season and then isolating in specific areas for the post-season.  It worked for MLB last fall.  Let's hope the same develops for NCAA basketball.  The country needs March Madness as a framework for baseball's Spring Training.  If we can complete a successful tournament bracketed around a successful MLB Opening Day, we may truly be seeing the return to sanity in sports and life.
We are already seeing a generally normal course of events in the Grapefruit and Cactus Leagues, with the biggest surprises being that MIA at 8-2 and KCR at 12-5 lead the respective leagues.  https://www.mlb.com/standings/spring-training.  That news is insignificant compared to these startling COVID-19 standings compiled since the opening of training camps:  49,281 tests conducted,  27 total positive tests (21 players, 6 staff members); a 0.05% positive rate.  
That is very encouraging news, indeed, and the picture becomes even rosier when the most recent weekly tests are viewed:  only two confirmed cases, which translates to a 1 in 10,000 positive rate!  You can read MLB's official reporting here:  https://www.mlb.com/press-release/mlb-covid-release-03-12-21.
So, I hope your NCAA brackets fare well and that the prediction practice prepares you for the B.A.B.E.S. bracket deadline: Noon, April 1.  By then, March Madness will be down to the Final Four, and my bracket is sure to be busted, but my MLB mental outlook should be rosy, and getting rosier. 
"Field of Dreams" – Dyersville, IA,
(August 19, 2014)
March 11, 2021
2020 Hindsight?
We all know that this phrase is traditionally used as an excuse for an error in judgment. However, after the year that we have all just endured, it might take on a new meaning – such as "things could be worse, like back in 2020"! Of course, things have not improved markedly in 2021, and certainly not for those of us in Texas. We just experienced a winter storm of Biblical proportions and a breakdown of social infrastructure reminiscent of Mad Max – https://www.youtube.com/watch?v=hEJnMQG9ev8.  Although it remains to be seen what will happen with the Texas power industry (which I have been working on restructuring since the storm ended), our society has survived and is starting to put even COVID-19 behind it. The thought is that we all must move forward, and that is exactly what MLB proposes to do, with a 162 game schedule set to begin April 1 (as fitting an opening date for a pandemic recovery as any I can think of).
Who knows how this is all going to work out? Well, if you look back to 2020 you might have a strong clue. LAD is the defending World Series champion, and was clearly the best team last year. For 2021, they have added the Cy Young Award winner to their already stellar pitching rotation, (even if he is a headcase), and are scheduled to get David Price back from injury and COVID-19 opt-out. They also retained Justin Turner, a star player even if he did violate all logical health protocols to celebrate the World Series victory. 2020 hindsight says that was not a smart move, but apparently no one else was infected. So, is there any reason to pick any other team to win the 2021 World Series? The only one I can think of is that no MLB team has repeated as World Series champion in over 20 years. Which hindsight are you going to follow?
More insight to come from me this month, but you should start thinking about your picks now.
April Fool's Day is only three weeks away.
© JSR 2021
Pat Andriola (3) NL East/WAS; Central/STL(1): West/LAD(1); Wildcards/SDO; NYM; NL LCS/LAD; AL East/BOS(1); Central/DET; West/SEA; Wildcards/CLE; TOR; AL LCS BOS; WS/LAD; NL MVP/J. Upton; NL Cy Young/Kershaw; NL Batting/T. Storey; AL MVP/Trout ; AL Cy Young/Hernandez; AL Batting/Altuve
Edmund Attanasio (13) NL East/WAS; Central/PIT; West/SFO (3); Wildcards/CHI; NYM; NL LCS/WAS; AL East/BOS(1); Central/DET; West/LAA; Wildcards/KCR; SEA; AL LCS BOS; WS/BOS; NL MVP/Harper(10); NL Cy Young/Kershaw; NL Batting/Harper; AL MVP/Trout; AL Cy Young/Hernandez; AL Batting/Trout
Chip Babcock (13) NL East/NYM; Central/STL (1); West/SDO; Wildcards/LAD (3); ATL (1); NL LCS/LAD; AL East/NYY (1); Central/CSW (3); West/HOU (3); Wildcards/TOR; TBR (1); AL LCS NYY; WS/NYY; NL MVP/Betts; NL Cy Young/deGrom; NL Batting/Freeman; AL MVP/Trout; AL Cy Young/Cole; AL Batting/LeMahieu
Matt Bardwell (25) NL East/NYM; Central/CHI; West/SFO (3); Wildcards/STL (3); SDO; NL LCS/CHI; AL East/BAL; Central/KCR; West/HOU (3); Wildcards/TEX; DET; AL LCS HOU (6); WS/CHI; NL MVP/deGrom; NL Cy Young/Darvish; NL Batting/T. Turner (10); AL MVP/Voit; AL Cy Young/Bieber; AL Batting/T. Turner
Pete Broderick (12) NL East/ATL (3); Central/STL (1); West/LAD (1); Wildcards/SDO; NYM; NL LCS/LAD; AL East/NYY (1); Central/CWS (3); West/HOU (3); Wildcards/TOR; MIN; AL LCS/NYY; WS/LAD; NL MVP/Acuna; NL Cy Young/deGrom; NL Batting/Soto; AL MVP/Trout; AL Cy Young/Cole; AL Batting/LeMahieu
Rob Carington (41) NL East/ATL (3); Central/MIL (3); West/LAD (1); Wildcards/CHI; NYM; NL LCS/ATL (6); AL East/NYY (1); Central/CWS (3); West/LAA; Wildcards/HOU (1); TBR (1); AL LCS/LAA; WS/ATL (12); NL MVP/Baez; NL Cy Young/deGrom; NL Batting/Yelich; AL MVP/Ohtani (10); AL Cy Young/Cole; AL Batting/Trout
William Cupelo (10) NL East/ATL (3); Central/STL (1); West/SDO; Wildcards/LAD (3); NYM; NL LCS/LAD; AL East/NYY (1); Central/MIN; West/OAK; Wildcards/TBR (1); CWS (1); AL LCS/NYY; WS/NYY; NL MVP/deGrom; NL Cy Young/deGrom; NL Batting/Soto; AL MVP/Trout; AL Cy Young/Cole; AL Batting/Correa
Patrick Despain (9) NL East/WAS; Central/STL (1); West/LAD (1); Wildcards/ATL (1); SDO; NL LCS/LAD; AL East/TBR (3); Central/DET; West/TEX; Wildcard/OAK; BOS (3); AL LCS TEX; WS/TEX; NL MVP/A. Gonzalez; NL Cy Young/Kershaw; NL Batting/McCutchen; AL MVP/M. Cabrera; AL Cy Young/Ohtani; AL Batting/M. Cabrera
Carey Edwards (22) NL East/ATL (3); Central/MIL (3); West/SDO; Wildcards/LAD (3); MIA; NL LCS/SDO; AL East/NYY (1); Central/CWS (3); West/HOU (3); Wildcard/TOR; OAK; AL LCS HOU (6); WS/HOU; NL MVP/Tatis; NL Cy Young/Fried; NL Batting/Betts; AL MVP/Correa; AL Cy Young/Glasnow; AL Batting/M. Cabrera
Dan Epstein (11) NL East/ATL (3); Central/STL (1); West/LAD (1); Wildcards/NYM; SDO; NL LCS/LAD; AL East/NYY (1); Central/MIN; West/HOU (3); Wildcard/TBR(1); CSW (1); AL LCS NYY; WS/LAD; NL MVP/Soto; NL Cy Young/deGrom; NL Batting/Soto; AL MVP/Trout; AL Cy Young/Cole; AL Batting/Madrigal
Ross Forbes (9) NL East/NYM; Central/MIL (3); West/LAD (1); Wildcards/ATL (1); SDO; NL LCS/LAD; AL East/NYY (1); Central/CWS (3); West/OAK; Wildcard/TOR; MIN; AL LCS NYY; WS/NYY; NL MVP/Soto; NL Cy Young/Beuhler; NL Batting/Soto; AL MVP/Trout; AL Cy Young/Cole; AL Batting/LeMahieu
Will Forbes (9) NL East/WAS; Central/CHI; West/LAD(1); Wildcards/MIL (1); ARI; NL LCS/LAD; AL East/NYY (1); Central/CLE; West/HOU (3); Wildcard/MIN; BOS (3); AL LCS NYY; WS/LAD; NL MVP/Bryant; NL Cy Young/Kershaw; NL Batting/Votto; AL MVP/Trout; AL Cy Young/Kluber; AL Batting/Altuve
JW Galloway (10) NL East/WAS; Central/CHI; West/SFO (3); Wildcards/STL (3); LAD (3); NL LCS/WAS; AL East/BOS (1); Central/DET; West/SEA; Wildcards/BAL; LAA; AL LCS DET; WS/DET; NL MVP/Stanton; NL Cy Young/Kershaw; NL Batting/Rizzo; AL MVP/Trout; AL Cy Young/Hernandez; AL Batting/Cano
Leo Gonzalez (20) NL East/NYM; Central/CHI; West/LAD (1); Wildcards/WAS; CIN; NL LCS/NYM; AL East/TOR; Central/KCR; West/HOU (3); Wildcards/TEX; LAA; AL LCS HOU (6); WS/HOU; NL MVP/Harper (10); NL Cy Young/Scherzer; NL Batting/Harper; AL MVP/Trout; AL Cy Young/Hernandez; AL Batting/Cano
Eric Gouldsbury (8) NL East/NYM; Central/CHI; West/LAD (1); Wildcards/STL(3); WAS; NL LCS/CHI; AL East/BOS(1); Central/CLE; West/HOU(3); Wildcards/TOR; SEA; AL LCS BOS; WS/BOS; NL MVP/J.Turner; NL Cy Young/Kershaw; NL Batting/J.Turner; AL MVP/Betts; AL Cy Young/Sale; AL Batting/Lindor
Eric Hoffman (7) NL East/WAS; Central/STL(1); West/LAD (1); Wildcards/CHI; COL; NL LCS/WAS; AL East/NYY (1); Central/CLE; West/HOU(3); Wildcards/TBR(1); KCR; AL LCS NYY; WS NYY; NL MVP/Goldschmidt; NL Cy Young/deGrom; NL Batting/Yelich; AL MVP/Altuve; AL Cy Young/Cole; AL Batting/Yelich
Pete Hosey (13) NL East/ATL(3); Central/CHI; West/LAD(1); Wildcards/WAS; STL(3); NL LCS/CHI; AL East/BOS(1); Central/CLE; West/HOU(3); Wildcards/NYY(3); OAK; AL LCS NYY; WS/NYY; NL MVP/Story; NL Cy Young/Wheeler; NL Batting/Harper; AL MVP/Trout; AL Cy Young/Bieber; AL Batting/Trout
Steve Jacobs (10) NL East/ATL(3); Central/STL(1); West/LAD(1); Wildcards/NYM; SDO; NL LCS/LAD; AL East/NYY(1); Central/CWS(3); West/OAK; Wildcards/HOUS(1); MIN; AL LCS NYY; WS/NYY; NL MVP/Arenado; NL Cy Young/Scherzer; NL Batting/Yelich; AL MVP/Torres; AL Cy Young/Cole; AL Batting/LeMahieu
Tony Liccione (4)NL East/WAS; Central/STL(1); West/LAD(1); Wildcards/CHI; PIT; NL LCS/WAS; AL East/BOS(1); Central/DET; West/SEA; Wildcards/LAA; CWS(1); AL LCS SEA; WS/SEA; NL MVP/Stanton; NL Cy Young/Scherzer; NL Batting/McCutcheon; AL MVP/Trout; AL Cy Young/Price; AL Batting/Cano
Rip Lowe (6) NL East/ATL(3); Central/STL(1); West/LAD(1); Wildcards/SDO; WAS; NL LCS/LAD; AL East/NYY(1); Central/MIN; West/LAA; Wildcards/TOR; OAK; AL LCS NYY; WS/LAD; NL MVP/Betts; NL Cy Young/Bauer; NL Batting/Soto; AL MVP/Trout; AL Cy Young/Cole; AL Batting/LeMahieu
Tom Marchiando (6) NL East/ATL(3); Central/CHI; West/LAD(1); Wildcards/NYM; COL; NL LCS/LAD; AL East/NYY(1); Central/MIN; West/HOU(1); Wildcards/OAK; LAA; AL LCS/NYY WS/NYY; NL MVP/Acuna; NL Cy Young/Scherzer; NL Batting/Blackmon; AL MVP/Judge; AL Cy Young/Cole; AL Batting/Trout
Ray Mileur (5) NL East/WAS; Central/STL(1); West/LAD(1); Wildcards/PIT; SFO(1); NL LCS/STL; AL East/BOS(1); Central/DET; West/TEX; Wildcards/OAK; TBR(1); AL LCS TEX; WS/STL; NL MVP/Craig; NL Cy Young/Wainwright; NL Batting/Carpenter; AL MVP/Trout; AL Cy Young/Darvish; AL Batting/M. Cabrera
Eric Monacelli (15) NL East/NYM ; Central/STL(1); West/LAD(1); Wildcards/COL; CHI; NL LCS/LAD; AL East/BOS(1); Central/CLE; West/HOU(3); Wildcards/NYY(3); LAA; AL LCS/HOU (6); WS/HOU; NL MVP/Arenado; NL Cy Young/deGrom; NL Batting/Blackmon; AL MVP/Trout; AL Cy Young/Cole; AL Batting/Altuve
Jed Morrison (7) NL East/PHI; Central/CHI; West/LAD(1); Wildcards/ATL(1); PIT; NL LCS/LAD; AL East/NYY(1); Central/CWS(3); West/LAA; Wildcards/MIN; HOU(1); AL LCS NYY; WS/LAD; NL MVP/Harper; NL Cy Young/Scherzer; NL Batting/Yelich; AL MVP/Trout; AL Cy Young/Giolito; AL Batting/Anderson
Dan Nerdahl (28) NL East/ATL(3); Central/STL(1); West/LAD(1); Wildcards/SDO; NYM; NL LCS/ATL (6); AL East/NYY(1); Central/MIN; West/HOU(3); Wildcards/CWS(1); TOR; AL LCS/MIN; WS/ATL(12); NL MVP/Soto; NL Cy Young/deGrom; NL Batting/Freeman; AL MVP/Trout; AL Cy Young/Giolito; AL Batting/Anderson
Austin Philbin (12) NL East/NYM; Central/CHI; West/LAD(1); Wildcards/ATL(1); ARI; NL LCS/CHI; AL East/NYY(1); Central/CWS(3); West/HOU(3); Wildcards/BOS(3); KCR; AL LCS NYY; WS/NYY; NL MVP/Betts; NL Cy Young/Buehler; NL Batting/Rizzo; AL MVP/Trout; AL Cy Young/Cole; AL Batting/Anderson
Gus Pompa (10) NL East/PHI; Central/STL(1); West/LAD(1); Wildcards/CHI; MIL(1); NL LCS/WAS; AL East/BOS(1); Central/CLE; West/HOU(3); Wildcards/NYY(3); LAA; AL LCS/BOS; WS/WAS; NL MVP/Acuna; NL Cy Young/Scherzer; NL Batting/Freeman; AL MVP/Trout; AL Cy Young/Bauer; AL Batting/Altuve
Alix Rose (11) NL East/WAS; Central/STL(1); West/SFO(3); Wildcards/LAD(3); CHI; NL LCS/STL; AL East/BOS(1); Central/MIN; West/OAK; Wildcards/TEX; NYY(3); AL LCS BOS; WS/STL; NL MVP/Betts; NL Cy Young/Buehler; NL Batting/Betts; AL MVP/Trout; AL Cy Young/Cole; AL Batting/Trout
Carl Rose (12) NL East/ATL(3); Central/MIL(3); West/LAD(1); Wildcards/NYM; SDO; NL LCS/LAD; AL East/NYY(1); Central/CWS(1); West/HOU(3); Wildcards/TOR; MIN; AL LCS/NYY; WS/LAD; NL MVP/Betts NL Cy Young/Snell; NL Batting/Soto; AL MVP/Trout; AL Cy Young/Giolito; AL Batting/LeMahieu
Jack Rose (17) NL East/NYM; Central/MIL(3); West/ARI; Wildcards/STL(3); ATL(1); NL LCS/NYM; AL East/NYY(1); Central/MIN; West/HOU(3); Wildcards/KCR; TOR; AL LCS/HOU (6); WS/NYM; NL MVP/Betts; NL Cy Young/deGrom; NL Batting/Harper; AL MVP/Trout; AL Cy Young/Cole; AL Batting/LeMahieu
Jennifer Rose (15) NL East/NYM; Central/CIN; West/LAD(1); Wildcards/SFO(1); PIT; NL LCS/NYM; AL East/BOS(1); Central/CLE; West/HOU(3); Wildcards/OAK; NYY(3); AL LCS HOU (6); WS/HOU; NL MVP/T. Turner; NL Cy Young/Greinke; NL Batting/Blackmon; AL MVP/Altuve; AL Cy Young/Keuchel; AL Batting/Altuve
Kara Rose (3) NL East/NYM; Central/STL(1); West/LAD(1); Wildcards/PIT; MIN; NL LCS/LAD; AL East/NYY(1); Central/KCR; West/LAA; Wildcards/OAK; TEX; AL LCS LAA. WS/LAD; NL MVP/Puig; NL Cy Young/Kershaw; NL Batting/Puig; AL MVP/Trout; AL Cy Young/Sale; AL Batting/Altuve
Scott Rose (44) NL East/ATL(3); Central/STL(1); West/LAD(1); Wildcards/WAS; SDO; NL LCS/ATL (6); AL East/NYY(1); Central/MIN; West/HOU(3); Wildcards/TBR(1); OAK; AL LCS/HOU (6); WS/ATL(12); NL MVP/Soto; NL Cy Young/deGrom; NL Batting/T. Turner (10); AL MVP/Correa; AL Cy Young/Cole; AL Batting/LaMahieu
Bruce Ruzinsky (15) NL East/ATL(3); Central/MIL(3); West/LAD(1); Wildcards/SDO; NYM; WAS; NL LCS/LAD; AL East/NYY(1); Central/CWS(3); West/HOU(3); Wildcards/TBR(1); LAA; AL LCS/NYY; WS/LAD; NL MVP/Soto; NL Cy Young/Buehler; NL Batting/Soto; AL MVP/Trout; AL Cy Young/Cole; AL Batting/Bregman
David Sanders (8) NL East/ATL(3); Central/STL(1); West/LAD(1); Wildcards/WAS; NYM; NL LCS/LAD; AL East/NYY(1); Central/MIN; West/LAA; Wildcards/HOU(1); CWS(1); AL LCS/NYY; WS/LAD; NL MVP/Acuna; NL Cy Young/deGrom; NL Batting/Soto; AL MVP/Trout; AL Cy Young/Cole; AL Batting/Anderson
Hudson Stone (18) NL East/ATL(3); Central/MIL(3); West/LAD(1); Wildcards/SDO; NYM; NL LCS/SDO; AL East/NYY(1); Central/MIN; West/HOU(3); Wildcards/CWS(1); TOR; AL LCS HOU (6); WS/HOU; NL MVP/Acuna; NL Cy Young/deGrom; NL Batting/Soto; AL MVP/Correa; AL Cy Young/Cole; AL Batting/Anderson
Madison Stone (9) NL East/WAS; Central/PIT; West/LAD(1); Wildcards/NYM; COL; NL LCS/LAD; AL East/BOS(1); Central/KCR; West/TEX; Wildcards/HOU(1); BAL; AL LCS HOU (6); WS/HOU; NL MVP/Goldschmidt; NL Cy Young/Kershaw; NL Batting/Gordon; AL MVP/Trout; AL Cy Young/Carrasco; AL Batting/Altuve
Patrick Stone (9) NL East/WAS; Central/STL(1); West/LAD(1); Wildcards/PHI; CHI; NL LCS/WAS; AL East/NYY(1); Central/CLE; West/HOU(3); Wildcards/BOS(3); OAK; AL LCS/HOU (6); WS/HOU; NL MVP/Goldschmidt; NL Cy Young/Scherzer; NL Batting/Freeman; AL MVP/Bregman; AL Cy Young/Cole; AL Batting/Altuve
Pat Stone (11) NL East/ATL(3); Central/STL(1); West/ARI; Wildcards/COL; MIA; NL LCS/ATL (6); AL East/TOR; Central/MIN; West/TEX; Wildcards/HOU(1); KCR; AL LCS/TOR. WS/TOR; NL MVP/Tulowitski NL Cy Young/Kershaw; NL Batting/Molina; AL MVP/Bautista; AL Cy Young/Hernandez; AL Batting/Altuve
Rachel Stone (27) NL East/WAS; Central/CHI; West/LAD(1); Wildcards/COL; STL(3); NL LCS/CHI; AL East/NYY(1); Central/CLE; West/HOU(3); Wildcards/BOS(3); LAA; AL LCS/HOU(6); WS/HOU; NL MVP/Harper (10); NL Cy Young/Scherzer; NL Batting/Harper; AL MVP/Correa; AL Cy Young/Verlander; AL Batting/Springer
Walter Stone (25) NL East/NYM; Central/CHI; West/ARI; Wildcards/LAD(3); ATL(1); NL LCS/NYM; AL East/NYY(1); Central/CLE; West/HOU(3); Wildcards/TBR(1); LAA; AL LCS HOU (6); WS/HOU; NL MVP/Harper (10); NL Cy Young/deGrom ; NL Batting/J. Turner; AL MVP/Altuve; AL Cy Young/Kluber; AL Batting/Altuve
Marc Whyte (22) NL East/ATL(3); Central/STL(1); West/LAD(1); Wildcards/SDO; NYM; NL LCS/LAD; AL East/NYY(1); Central/CWS(3); West/HOU(3); Wildcards/TOR; LAA; AL LCS NYY; WS/NYY; NL MVP/Tatis; NL Cy Young/deGrom; NL Batting/T. Turner (10); AL MVP/Trout; AL Cy Young/Cole; AL Batting/LeMahieu
Caleb Young (26) NL East/ATL(3); Central/CHI; West/SFO(3); Wildcards/PIT; PHI; NL LCS/CHI; AL East/BOS(1); AL West/HOU(3); AL Central/KCR; AL Wildcards/CLE; SEA; AL LCS HOU (6); WS/NYM; NL MVP/Harper (10); NL Cy Young/Harvey; NL Batting/Harper; AL MVP/Correa; AL Cy Young/Keuchel; AL Batting/Trout